About
Copper,

Brass,

and Bronze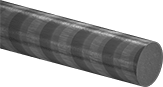 Yield

Strength:

43,

000 psi

Hardness:




1/4

" to

3/8

"

dia.

rods:

Not Rated
All other

sizes:

Rockwell B75

(Medium)

Temper:

H04

(Full

Hard)

Heat

Treatable:

No
Specifications

Met:

ASTM B98
Commonly called silicon-bronze, 655 bronze contains more silicon than other bronze alloys, making it suitable for all types of welding. With excellent formability and corrosion resistance, it's often used to make parts for marine applications, as well as in pumps and boilers.
For technical drawings and 3-D models, click on a part number.

Certificates with a traceable lot number are available for these products. Download certificates from ORDER HISTORY after your order ships.
Dia.

Dia.

Tolerance
Range
Straightness
Tolerance

1 ft.

Lg.

3 ft.

Lg.

6 ft.

Lg.

1/4

"
-0.002" to 0.002"

1/4

" per 10 ft.
00000000

5/16

"
-0.002" to 0.002"

1/4

" per 10 ft.
00000000

3/8

"
-0.002" to 0.002"

1/4

" per 10 ft.
00000000

1/2

"
-0.002" to 0.002"

1/4

" per 10 ft.
00000000

5/8

"
-0.004" to 0.004"

1/4

" per 10 ft.
00000000

3/4

"
-0.004" to 0.004"

1/4

" per 10 ft.
00000000
1"
-0.004" to 0.004"

1/4

" per 10 ft.
00000000
1

1/4

"
-0.004" to 0.004"

1/4

" per 10 ft.
00000000
1

1/2

"
-0.004" to 0.004"

1/4

" per 10 ft.
00000000