Drum Vents

A

B

C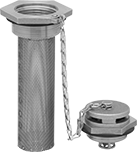 D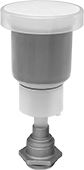 E
Prevent drum failure by using these vents to release pressure and vacuum buildup caused by draining liquids and sudden temperature changes. In case of fire, a flame arrester prevents flashback into the drum.
Style D has a removable cap so it can be used as a fill opening.
Style E comes with two carbon filters. The filter traps 99% of vapors.
Style
Pressure
Relief
Vacuum
Relief
Seal
Material
Flame
Arrester
Material
Pipe
Size
Gender
Opening
Pressure
Range
Specifications
Met
Each

For Horizontal Drums

316 Stainless Steel

A
Automatic
Manual
Fluoroelastomer Rubber
304 Stainless Steel
2 NPT

Male
3 psi-8 psi
FM Approved

0000000
0000000

Brass

A
Automatic
Manual
Buna-N Rubber
Brass
2 NPT

Male
3 psi-8 psi
FM Approved

0000000
00000

For Vertical Drums

Polyethylene Plastic

B
Automatic
Automatic
Buna-N Rubber
Zinc-Plated Steel
2 NPT

Male
3 psi-8 psi
FM Approved

0000000
00000
B
Automatic
Automatic
Buna-N Rubber
304 Stainless Steel
2 NPT

Male
3 psi-8 psi
FM Approved

0000000
000000

Brass

C
Automatic
Automatic
Buna-N Rubber
Brass
2 NPT

Male
3 psi-8 psi
FM Approved

000000
000000
D
Automatic
Automatic
Buna-N Rubber
Brass
2 NPT

Male
3 psi-8 psi
FM Approved

0000000
000000
E
Automatic
Automatic
Buna-N Rubber
Brass
2 NPT

Male
3 psi-8 psi
FM Approved

0000000
000000