Film with Copper Ion Finish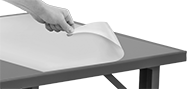 Adhesive Mount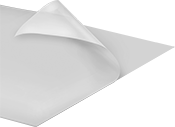 Film
Keep frequently touched elevator panels, kiosks, counters, and other large surfaces free of germs. This film has a copper ion finish on the coarse side that stops microbes such as bacteria, mold, mildew, and fungi from growing. It's semi-clear, so it won't obscure details of the surface below. Do not clean the film with detergents or disinfectants. Replace it after six months of use or if it becomes damaged or worn.
Length
Width
Thickness
Texture
Color
Clarity
Each

Polyethylene Plastic

Sheet

48"
12"
0.006"
Coarse
Brown
Semi-Clear
0000000
000000
Button Covers with Silver Ion Finish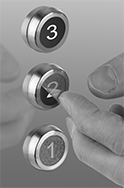 Keep the surface of buttons, such as those in an elevator, free of bacteria and germs. These covers have a silver ion finish that stops bacteria, mold, mildew, fungi, and other microbes from growing for up to six months. They eliminate the need to clean elevator buttons between uses. Stick them to buttons using their adhesive back; there's no need for special tools. All are clear, so you can still see what's written on the buttons.