Armored Building Cable and
Flexible-Conduit

Cutters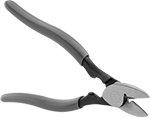 Cut armored cable such as BX, HCF, and MC and flexible metal conduit. Operate these cutters with one hand.
Cable
Conduit
Overall


Lg.

Jaw
Material
Handle
Material
Grip
Material
Opening
Style
Each

1/2

"

1/2

"
7

5/8

"
Steel
Steel
Plastic
Manual
000000
000000
Armored Cable and Flexible Metal Conduit Strippers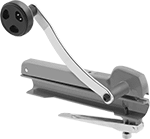 Strip BX, MC, and HCF armored cable in addition to flexible metal conduit. Turn the crank to make a slit in the cable or conduit, then twist to remove the outer layer without damaging the wires inside or having to debur the ends. Strippers can cut at the end or middle of cable or conduit.