Multiport Threaded Diverting Valves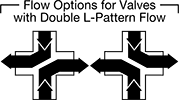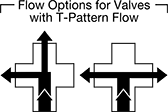 Valve

Type:

Plug

For Use

With:

Air,

Argon,

Helium,

Krypton,

Neon,

Oil,

Water,

Xenon
Seal

Material:

Fluoroelastomer Rubber
Divert the flow of compressed air and other media to multiple pieces of equipment. Turn the handle to direct flow to multiple outlet ports. Valves cannot shut off flow.
Valves with double L-pattern flow have two separate flow paths.
Valves with T-pattern flow direct flow from the inlet port to two of the three outlet ports at reduced capacity.
For technical drawings and 3-D models, click on a part number.