Easy-Read

Tank-Mount

Pressure-Regulating

Valves with Flowmeter for Inert Gas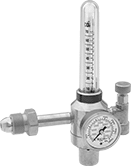 Male
Inlet ×
Female Outlet With One Flowmeter
Flowmeters let you see the gas flow rate from a distance. These valves automatically reduce a high inlet pressure from compressed gas tanks to a lower, stable outlet pressure. All have Compressed Gas Association (CGA) numbered inlet fittings for secure connections to compressed gas tanks. Choose a valve with the same CGA number as your tank and other system components. They have a gauge for monitoring inlet pressure from the tank.
Single-stage valves reduce pressure in one step, which causes the outlet pressure to fluctuate slightly as you empty the tank. They're best for applications where a constant outlet pressure isn't critical.
Valves with one flowmeter are for one piece of equipment on a tank. The flowmeter has a single scale.
Adapters (sold separately) change 5/8"-18 outlets to 9/16"-18 male connections, and vice versa.
For Use With Argon and Helium
CGA
Number

Location
Thread
Direction
Pressure
Gauge


Range,

psi
Stage
Thread
Size

Location
Thread
Direction
Flow


Range,


scfh
Number
of
Flowmeters
Body
Seal
Diaphragm
Each

UNF Female Outlet × NGO Male Inlet

CGA 580

Side
Right Hand
0 to 4,000
Single

5/8

"-18

Side
Right Hand
0 to 45 (Argon), 0 to 140 (Helium)
1
Brass
PTFE
Neoprene
00000000
0000000