Press-Fit

Captive Panel Screws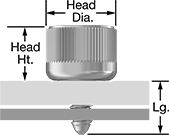 Install in soft material such as aluminum and low-carbon steel at least 0.036" thick with an arbor press or similar pressure tool. Screws become a part of the panel when installed, so they won't fall out and get lost. They're often used with surface mount nuts.
Zinc-plated steel bodies resist corrosion in wet environments.
For technical drawings and 3-D models, click on a part number.
Min.




Thick.

Hole


Dia.

Head


Dia.

Head


Ht.

Lg.

Screw Material
Head
Material
Each

4-40

0.036"
0.219"
0.422"
0.328"

5/32

"
430 Stainless Steel
Aluminum
000000000
00000

6-32

0.036"
0.25"
0.453"
0.406"

7/32

"
430 Stainless Steel
Aluminum
000000000
0000

8-32

0.036"
0.313"
0.516"
0.438"

7/32

"
430 Stainless Steel
Aluminum
000000000
0000

10-32

0.036"
0.313"
0.516"
0.438"

7/32

"
430 Stainless Steel
Aluminum
000000000
0000

1/4"-20

0.036"
0.375"
0.578"
0.531"

9/32

"
400 Series Stainless Steel
Aluminum
000000000
0000