Made-to-Order

High-Temperature

Graphite Gaskets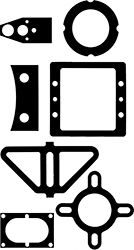 When you need a unique shape or size graphite gasket, we will precision cut one for you using your DXF file. This material, also known as Hochdruck, is graphite with stainless steel layers for added strength in hot environments.
First select a thickness, then select a sheet size that's large enough to accommodate your gasket. Gasket cross section and bolt hole diameter must be at least 0.187". Finally, send us your DXF file. Depending on the size of your gasket, we'll send you as many same-design gaskets as a sheet will yield, up to 20 gaskets for 12"×12" sheets, and up to 40 gaskets for 24"×24" sheets.
Porous Conductive Carbon


Medium Flow

High Flow
Color:

Gray

Max.

Temperature:

600° F

Tensile

Strength:

See table
Electrical

Properties:

Conductive
Surface

Resistivity:

See table
Often used in filtering, this brittle, glass-like carbon has pores that allow fluid and air to flow through. Its low surface resistivity also makes it a good electrical conductor. This material is also temperature and chemical resistant.
For technical drawings and 3-D models, click on a part number.
High-Temperature

Acid-Resistant

Silicon-Carbide

Ceramic Foam
Color:

Gray
Maximum

Temperature:

3,000° F

Compressive

Strength:

200 psi
A silicon carbide coating over a carbon foam base combines the hardness, chemical resistance, and high temperatures silicon carbide is known for with the lightweight versaitility of foam. It's often used for cores in composite layers and to filter molten metal and corrosive liquids.
The silicon carbide coating acts as a thermal conductor, transferring heat to quickly cool liquids that pass through. Known for its hardness, silicon carbide won't break down from repeated abrasion. However, because it's so hard, this material is more brittle than plain carbon foam and less impact resistant than balsa wood, PET, and PVC foam cores.
Acids and bases can't penetrate the silicon carbide coating, even at high temperatures. Instead, contaminants stick to the surface, making it a great filter for corrosive liquids and environmental pollutants such as exhaust. If using this material as a filter, choose a foam with more pores per inch for a slower flow rate, and a foam with fewer pores per inch for a faster flow rate.
If you cut this material, the underlying carbon foam is exposed. Carbon foam does not have the temperature range and chemical resistance of its silicon carbide coating, so it will break down more quickly at exposed points.
For technical drawings and 3-D models, click on a part number.