Nylon Wheels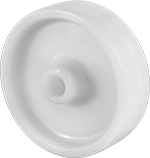 Without Bearings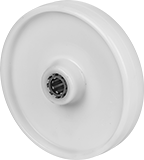 With Roller Bearing

These general purpose nylon wheels are impact and wear resistant. They work well on smooth surfaces.
Wheels without bearings ride directly on the axle, making them an economical choice for equipment that's not frequently moved. Wheels with roller bearings roll smoother than wheels without bearings, so equipment is easier to move.
For technical drawings and 3-D models, click on a part number.
Dia.

Wd.

Hub

Lg.

Cap.

per


Wheel,

lbs.

Hardness
Nonmarking
Wheels
Wheel
Core Style

Temp.




Range,

°F

For Axle


Dia.

Each

Without Bearings

2"

3/4

"
1"
90
Durometer 80D
Yes
Solid
45° to 100°

1/4

"
0000000
00000
2

1/2

"

7/8

"
1

5/16

"
180
Durometer 80D
Yes
Solid
45° to 100°

3/8

"
0000000
0000
3"
1"
1

9/16

"
250
Durometer 80D
Yes
Solid
45° to 100°

1/2

"
0000000
0000
3"
1

3/8

"
1

3/4

"
350
Durometer 80D
Yes
Solid
45° to 100°

15/32

"
0000000
0000
4"
1

1/4

"
1

7/8

"
440
Durometer 80D
Yes
Solid
45° to 100°

19/32

"
0000000
0000
4"
1

3/8

"
1

3/4

"
490
Durometer 80D
Yes
Solid
45° to 100°

15/32

"
0000000
0000
5"
1

3/8

"
1

3/4

"
590
Durometer 80D
Yes
Solid
45° to 100°

15/32

"
0000000
00000
6"
1

3/4

"
2

3/8

"
1,100
Durometer 80D
Yes
Solid
45° to 100°

25/32

"
0000000
00000
8"
2"
2

3/8

"
1,100
Durometer 80D
Yes
Solid
45° to 100°

25/32

"
0000000
00000

With Roller Bearings

4"
1

1/4

"
1

7/8

"
440
Durometer 80D
Yes
Solid
45° to 100°

19/32

"
0000000
00000
5"
1

3/8

"
1

7/8

"
590
Durometer 80D
Yes
Solid
45° to 100°

19/32

"
0000000
00000
6"
1

1/2

"
2

3/8

"
840
Durometer 80D
Yes
Solid
45° to 100°

25/32

"
0000000
00000
8"
1

1/2

"
2

3/8

"
990
Durometer 80D
Yes
Solid
45° to 100°

25/32

"
0000000
00000