Steel Wheels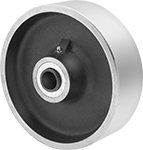 Steel wheels provide the highest capacities for their size of any wheel material. They are rugged and long lasting and can withstand chemicals and heavy loads. Rounded edges make these wheels easy to turn.
Roller bearings provide smooth rolling. Tapered roller bearings withstand both downward and side force.
For technical drawings and 3-D models, click on a part number.
Dia.

Wd.

Hub


Lg.

Cap.

per


Wheel,

lbs.

Hardness
Rating
Nonmarking
Wheels
Seal
Type
Material
Wheel
Core Style

Temp.




Range,

°F

For
Axle


Dia.

Each

With Tapered Roller Bearings

4"
1

1/2

"
2

7/16

"
1,400
Hard
No
Open
Steel
Solid
-20° to 110°

1/2

"
0000000
000000
4"
1

1/2

"
2

7/16

"
1,400
Hard
No
Open
Steel
Solid
-20° to 110°

5/8

"
0000000
00000
5"
1

3/4

"
2

7/16

"
1,500
Hard
No
Open
Steel
Solid
-20° to 110°

1/2

"
0000000
00000
6"
2"
2

7/16

"
1,500
Hard
No
Open
Steel
Solid
-20° to 110°

1/2

"
0000000
00000
6"
2

1/2

"
3

9/16

"
4,000
Hard
No
Open
Steel
Solid
-20° to 110°
1"
0000000
000000
6"
3"
3

1/2

"
10,000
Hard
No
Open
Steel
Solid
-20° to 110°
1"
0000000
000000
6"
3"
3

9/16

"
6,000
Hard
No
Open
Steel
Solid
-20° to 110°
1"
0000000
000000
8"
2

1/2

"
3

9/16

"
4,000
Hard
No
Open
Steel
Solid
-20° to 110°
1"
0000000
000000
8"
3"
3

1/2

"
10,000
Hard
No
Open
Steel
Solid
-20° to 110°
1"
0000000
000000
8"
3"
3

9/16

"
4,500
Hard
No
Open
Steel
Solid
-20° to 110°
1"
0000000
000000
8"
4"
4

1/2

"
20,000
Hard
No
Open
Steel
Solid
-20° to 110°
1

1/4

"
0000000
000000
10"
3"
3

9/16

"
5,000
Hard
No
Open
Steel
Solid
-20° to 110°
1"
0000000
000000
10"
4"
4

1/2

"
20,000
Hard
No
Open
Steel
Solid
-20° to 110°
1

1/4

"
0000000
000000