Phenolic

Polyurethane

Iron


Steel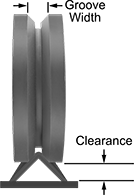 These wheels have a 90° V-groove and a flat tread to move your equipment on angle-iron track as well as the floor.
Phenolic wheels are nonmarking and perform well at high temperatures.
Polyurethane wheels combine the abrasion resistance of plastic with the shock-absorbing qualities of rubber.
Metal wheels are rugged and long lasting, and can withstand chemicals, high temperatures, and heavy loads.
303 stainless steel is corrosion resistant.
Sleeve bearings prevent wear to the wheel bore but don't roll as easily as other bearings. Roller bearings provide smoother rolling than sleeve bearings. Ball bearings are the easiest to roll. They are completely sealed for the best protection against dust and debris.
For technical drawings and 3-D models, click on a part number.
Dia.

Wd.

Hub


Lg.

Cap.

per


Wheel,




lbs.

Wd.

Angle
On


1 1/4"


Track
On


1 1/2"


Track
On


2"


Track
Hardness
Rating
Nonmarking
Wheels

Temp.




Range,




°F

Choose
For Axle


Dia.

Each

Black Phenolic Plastic

With Roller Bearings

4"
1

1/2

"
1

15/16

"
380

7/8

"
90°

7/16

"

5/8

"
__
Hard
Yes
-50° to 300°

1/2

"
0000000
000000
6"
2"
2

1/2

"
750

7/8

"
90°

7/16

"

5/8

"
__
Hard
Yes
-50° to 300°

1/2

"
0000000
00000
6"
2

1/2

"
3

9/16

"
1,100
1

1/4

"
90°
__
__

13/16

"
Hard
Yes
-50° to 300°

3/4

"
0000000
00000

Green Polyurethane Rubber

With Roller Bearings

4"
2"
2

3/16

"
300

7/8

"
90°

1/2

"

3/4

"
__
Hard
Yes
-40° to 180°

1/2

"
00000000
00000
5"
2"
2

3/16

"
300

7/8

"
90°

1/2

"

3/4

"
__
Hard
Yes
-40° to 180°

1/2

"
00000000
00000
6"
2"
2

3/16

"
300

7/8

"
90°

1/2

"

3/4

"
__
Hard
Yes
-40° to 180°

1/2

"
00000000
00000

With Sleeve Bearings

4"
2"
2

3/16

"
300

7/8

"
90°

1/2

"

3/4

"
__
Hard
Yes
-40° to 180°

1/2

"
00000000
00000
5"
2"
2

3/16

"
300

7/8

"
90°

1/2

"

3/4

"
__
Hard
Yes
-40° to 180°

1/2

"
00000000
00000

Iron

With Roller Bearings

3"
1

3/8

"
1

11/16

"
450

13/16

"
90°

7/16

"

5/8

"
__
Hard
No
5° to 210°

1/2

"
000000
00000

Red Painted Iron

With Roller Bearings

4"
1

1/2

"
1

15/16

"
800

7/8

"
90°

1/2

"

11/16

"
__
Hard
No
-20° to 320°

1/2

"
0000000
00000
4"
2"
2

3/16

"
1,200

7/8

"
90°

7/16

"

11/16

"
__
Hard
No
-10° to 250°
00000000
00000
4"
2"
2

1/2

"
800

7/8

"
90°

1/2

"

11/16

"
__
Hard
No
-20° to 320°
0000000
00000
5"
2"
2

1/2

"
800

7/8

"
90°

1/2

"

11/16

"
__
Hard
No
-20° to 320°
0000000
00000
6"
2"
2

1/2

"
1,200

7/8

"
90°

1/2

"

11/16

"
__
Hard
No
-20° to 320°
0000000
00000
6"
2

1/2

"
2

13/16

"
3,500

7/8

"
90°
__
__

7/8

"
Hard
No
-10° to 250°

3/4

"
00000000
000000
6"
2

1/2

"
3

9/16

"
2,500

7/8

"
90°
__
__
1"
Hard
No
-20° to 320°
1"
0000000
00000
6"
2

3/4

"
3

9/16

"
2,500

7/8

"
90°
__
__
1"
Hard
No
-20° to 320°
1"
0000000
00000
8"
2

1/2

"
2

13/16

"
3,500

7/8

"
90°
__
__

7/8

"
Hard
No
-10° to 250°

3/4

"
00000000
000000
8"
2

1/2

"
3

9/16

"
2,500

7/8

"
90°
__
__
1"
Hard
No
-20° to 320°
1"
0000000
000000
8"
2

3/4

"
3

9/16

"
2,500
1

3/8

"
90°
__
__

3/4

"
Hard
No
-20° to 320°
1"
0000000
000000
8"
3"
3

9/16

"
2,500
1

3/8

"
90°
__
__

3/4

"
Hard
No
-20° to 320°
1"
0000000
000000
10"
3"
3

9/16

"
3,000
1

3/8

"
90°
__
__

3/4

"
Hard
No
-20° to 320°
1"
0000000
000000

Steel

With Roller Bearings

6"
3"
3

1/4

"
6,000
1

3/8

"
90°
__
__

13/16

"
Hard
No
-20° to 275°
1"
00000000
000000
8"
4"
4

1/4

"
8,300
1

3/4

"
90°
__
__

11/16

"
Hard
No
-20° to 275°
1

1/4

"
00000000
000000
10"
3"
3

1/4

"
5,000
1

3/8

"
90°
__
__

7/8

"
Hard
No
-20° to 275°
1"
00000000
000000

303 Stainless Steel

With Ball Bearings

4"
1

3/8

"
1

5/8

"
600

5/8

"
90°

9/16

"

3/4

"
__
Hard
No
-40° to 250°

1/2

"
00000000
000000
4"
2"
2

1/2

"
850

7/8

"
90°

7/16

"

5/8

"
__
Hard
No
-40° to 250°

1/2

"
00000000
000000
5"
2"
2

1/2

"
950

7/8

"
90°

7/16

"

5/8

"
__
Hard
No
-40° to 250°

1/2

"
00000000
000000
6"
2"
2

1/2

"
1,200

7/8

"
90°

7/16

"

5/8

"
__
Hard
No
-40° to 250°

1/2

"
00000000
000000