Leveling Plate Casters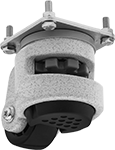 With Thumb Wheel Adjustment
With Nut Adjustment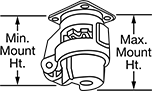 Use screws or bolts to attach the mounting plate on these casters to a flat surface. Adjust the leveling pad to keep your equipment stationary and compensate for uneven floors.
Nylon wheels are impact- and wear-resistant. They work well on smooth surfaces. Polyurethane wheels combine the abrasion resistance of plastic with the shock-absorbing qualities of rubber. Their aluminum core adds strength to the wheel without sacrificing cushioning. Use them on smooth or rough floors and in areas with debris. Double-ball bearings swivel more smoothly than ball bearings.
Turn the thumb wheel to lower or raise the leveling pad. Nut adjustment requires a wrench to move the leveling pad.
For technical drawings and 3-D models, click on a part number.
Dia.

Wd.

Mount


Ht.

Cap.

per


Caster,




lbs.

Mechanism
Nut
Thread
Size

Lg.

Wd.

Size

Lg.

Mounting
Fasteners
Included
Material
Color
Swivel
Construction
Swivel
Bearing
Type
Each

Nonmarking Black Solid Nylon Plastic

Wheels—

Hard

2

15/16

"
1

3/16

"
4

3/4

"-5

3/16

"
1,750
Thumb Wheel
__
3

3/4

"
3

3/4

"
M10

13/16

"
Yes
Powder-Coated Aluminum
Black
Kingpin
Double Ball
0000000
000000
2

15/16

"
1

3/16

"
4

3/4

"-5

3/16

"
1,750
Thumb Wheel
__
4

1/2

"
4"
M10

1"
Yes
Powder-Coated Aluminum
Ivory
Kingpin
Double Ball
00000000
00000
2

15/16

"
1

3/16

"
4

3/4

"-5

3/16

"
2,200
Nut
M16

3

3/4

"
3

3/4

"
M10

13/16

"
Yes
Powder-Coated Aluminum
Black
Kingpin
Double Ball
0000000
000000
2

15/16

"
1

3/16

"
4

3/4

"-5

3/16

"
2,200
Nut
M16

4

1/2

"
4"
M10

1"
Yes
Powder-Coated Aluminum
Ivory
Kingpin
Double Ball
00000000
000000

Nonmarking White

Tread-on-Core

Polyurethane Rubber

Wheels—

Hard

2

15/16

"
1

3/16

"
4

3/4

"-5

3/16

"
1,750
Thumb Wheel
__
3

3/4

"
3

3/4

"
M10

13/16

"
Yes
Powder-Coated Aluminum
Ivory
Kingpin
Double Ball
00000000
000000
2

15/16

"
1

3/16

"
4

3/4

"-5

3/16

"
1,750
Thumb Wheel
__
4

1/2

"
4"
M10

1"
Yes
Powder-Coated Aluminum
Ivory
Kingpin
Double Ball
00000000
000000