About Sling Configurations and Capacity
Adjustable Chain Slings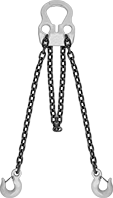 Style B Shown in Two Leg Configuration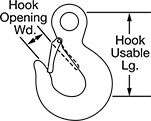 Vertical
Adjust the chain length and number of legs without changing slings. The chain provides strength and ruggedness to withstand the harshest working conditions.
Style A slings include a tag that shows chain grade and size, length, and capacities in each configuration.
Style B slings have capacities in each configuration stamped on the top link. For vertical configurations, use only one leg and the top eye while the other hangs free.
Note: Do not use slings at an angle less than 45°.
Warning: Never use to lift people or items over people.
Style

Straight-Link


Chain Trade
Size
Capacity
at

60°,




lbs.

Vertical


Capacity,




lbs.

Opening


Wd.

Usable


Lg.

Wd.

Lg.

Wd.

Thick.

Max.




Temp.,




°F

Specifications
Met

3 ft.




Lg.

6 ft.




Lg.

10


ft.




Lg.

14


ft.




Lg.

Each

Grade 100 Painted Steel Chain

A

5/16

__
5,700
1

1/8

"
3

3/4

"

5/8

"
3

3/4

"
2

3/8

"

3/4

"
400°
OSHA Compliant 29 CFR 1910.184, ASME B30.9
00000000
0000000
000000
A

3/8

__
8,800
1

3/8

"
4

3/4

"

7/8

"
4

5/8

"
3"

7/8

"
400°
OSHA Compliant 29 CFR 1910.184, ASME B30.9
00000000
0000000
00000
A

1/2

__
15,000
1

7/8

"
5

5/8

"
1

1/8

"
5

5/8

"
3

1/2

"
1"
400°
OSHA Compliant 29 CFR 1910.184, ASME B30.9
00000000
000000
00

Grade 100 Steel Chain

B

7/32

4,700
2,700

7/8

"
2

5/8

"

1/4

"
2

11/16

"
2

3/16

"

7/16

"
390°
OSHA Compliant 29 CFR 1910.184, ASME B30.9
00000000
00000000
00000
B

9/32

7,400
4,300
1"
3"

3/8

"
3

3/16

"
2

7/8

"

7/16

"
390°
OSHA Compliant 29 CFR 1910.184, ASME B30.9
00000000
00000000
00000
B

3/8

15,200
8,800
1

3/8

"
4

3/4

"

1/2

"
4

1/8

"
3

3/4

"

7/16

"
390°
OSHA Compliant 29 CFR 1910.184, ASME B30.9
00000000
00000000
00000