About Roller Chain and Sprockets
ANSI Attachment Chains
Attach brackets and guides to these chains—or move material directly—for use in conveying, timing, and aligning applications. Like roller chains, these attachment chains have solid rollers and bushings and a riveted construction for strength and durability. These factory-assembled chains save installation time and perform better than roller chains fitted with attachment links.
Chains with attachment tabs have holes for mounting parts and hanging hooks. Chains with attachment pins are good for tripping switches.
Connecting links are also known as master links. They're used to join the ends of a chain length. The side plate is easy to remove for attaching to a chain. Adding links are also known as roller links. They require two connecting links to join chain.
For technical drawings and 3-D models, click on a part number.
With A-1 Attachment Tabs Spaced Every Second Pitch


Adding Link
Roller
Chain
Trade

No.

Pitch

Dia.

Wd.

Working


Load,




lbs.

Attachment
Location
Tab


Lg.

Mounting
Hole


Dia.

Includes

Lengths,




ft.

Per




Ft.

Each

Each

40

1/2

"
0.312"

5/16

"
815
Outside Links
0.394"
0.142"
One Connecting Link
10, 15, 20
0000000
000000
000000
00000
00000000
00000
60

3/4

"
0.469"

1/2

"
1,930
Outside Links
0.657"
0.205"
One Connecting Link
10, 15, 20
0000000
00000
0000000
0000
00000000
0000
With K-1 Attachment Tabs Spaced Every Second Pitch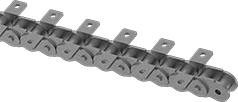 Adding Link
Roller
Chain
Trade

No.

Pitch

Dia.

Wd.

Working


Load,




lbs.

Attachment
Location
Tab


Lg.

Mounting
Hole


Dia.

Includes

Lengths,




ft.

Per




Ft.

Each

Each

40

1/2

"
0.312"

5/16

"
815
Outside Links
0.394"
0.142"
One Connecting Link
10, 15, 20
0000000
000000
000000
00000
00000000
00000
50

5/8

"
0.400"

3/8

"
1,400
Outside Links
0.563"
0.205"
One Connecting Link
10, 15, 20
0000000
00000
0000000
0000
00000000
0000
With D-3 Attachment Pins Spaced Every Second Pitch



Adding Link