Roller Chain Trade Size

Roller Chain Trade Size
Housing Material

Housing Material
Roller Chain Standard

Roller Chain Standard
Maximum Temperature

Maximum Temperature
Strap Material

Strap Material
Tension Force

Tension Force
DFARS (Defense Acquisition Regulations Supplement)

DFARS

(Defense

Acquisition

Regulations

Supplement)
RoHS (Restriction of Hazardous Substances)

RoHS

(Restriction

of
Hazardous

Substances)
Floating Roller Chain Tensioners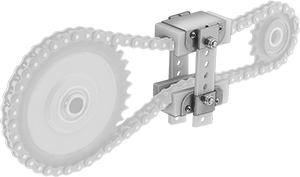 Mount these tensioners directly onto your chain drive. They have adjustable straps that take up slack and apply constant tension. Because they engage with the side plates instead of the rollers, they increase the life of your roller chain.
Titanium tensioners stand up to harsh and dirty environments. They're stronger and more durable than plastic tensioners. And with a low coefficient of friction, they work with chain that has little or no lubrication.
For technical drawings and 3-D models, click on a part number.
For Roller Chain
Trade
Size
For Roller Chain
Strand
Type

Ht.

Wd.

Dp.

Housing
Material
Strap
Material

Max.




Temperature,




° F

Each

For ANSI Roller Chain

Titanium

25
Single
12"
2

1/2

"
1

3/32

"
304 Stainless Steel
HDPE Plastic
180°
00000000
0000000
35
Single
12"
2

1/2

"
1

3/32

"
304 Stainless Steel
HDPE Plastic
180°
00000000
000000
40, 41, 52, 25-2
Single, Double
12"
3"
2

11/16

"
304 Stainless Steel
HDPE Plastic
180°
00000000
000000
50
Single
12"
3

1/2

"
2

7/8

"
304 Stainless Steel
HDPE Plastic
180°
00000000
000000
60, 35-2, 40-2, 35-3
Single, Double, Triple
12"
4"
3

1/8

"
304 Stainless Steel
HDPE Plastic
180°
00000000
000000
76, 100, 60-2, 40-3
Single, Double, Triple
16"
5"
4

1/16

"
304 Stainless Steel
HDPE Plastic
180°
00000000
000000
80, 50-2, 35-4
Single, Double, Quadruple
16"
4

1/2

"
3

3/4

"
304 Stainless Steel
HDPE Plastic
180°
00000000
000000
120, 80-2, 50-3, 40-4
Single, Double, Triple, Quadruple
16"
5

1/2

"
4

13/16

"
304 Stainless Steel
HDPE Plastic
180°
00000000
000000