About Sling Configurations and Capacity
Chain Slings with Locking Hooks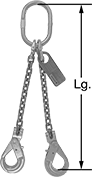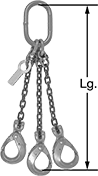 Three Leg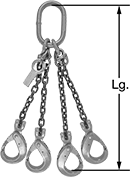 Four Leg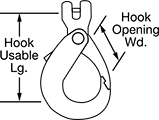 Vertical
Prevent accidental opening of the hook with these locking hooks. The chain provides strength and ruggedness to withstand harsh working conditions. Slings include a tag that shows chain grade and size, length, and capacities in each configuration.
Grade 100 steel slings are approximately 20% stronger than grade 80 steel.
Note: Do not use slings at an angle less than 30°.
Warning: Never use to lift people or items over people.
Straight-Link


Chain Trade
Size

at 30°

at 45°

at 60°

Vertical


Capacity,




lbs.

Opening


Wd.

Usable


Lg.

Wd.

Lg.

Wd.

Thick.

Specifications
Met
Other


Lengths,




ft.

2 ft.




Lg.

3 ft.




Lg.

6 ft.




Lg.

8 ft.




Lg.

10


ft.




Lg.

Grade 80 Steel Chain

9/32

__
__
__
3,500
1

5/8

"
5"

7/8

"
5"
2

1/2

"

9/16

"
OSHA Compliant 29 CFR 1910.184, ASME B30.9
2 to 20
0000000

3/8

__
__
__
7,100
2

1/4

"
6

1/8

"
1

1/8

"
5

1/2

"
2

3/4

"

3/4

"
OSHA Compliant 29 CFR 1910.184, ASME B30.9
2 to 20
0000000

9/32

3,500
4,900
6,100
__
1

5/8

"
5"

7/8

"
5"
2

1/2

"

9/16

"
OSHA Compliant 29 CFR 1910.184, ASME B30.9
2 to 20
0000000

3/8

7,100
10,000
12,300
__
2

1/4

"
6

1/8

"
1

1/8

"
5

1/2

"
2

3/4

"

3/4

"
OSHA Compliant 29 CFR 1910.184, ASME B30.9
2 to 20
0000000

9/32

5,200
7,400
9,100
__
1

5/8

"
5"

7/8

"
5

1/2

"
2

3/4

"

3/4

"
OSHA Compliant 29 CFR 1910.184, ASME B30.9
2 to 20
0000000

3/8

10,600
15,100
18,400
__
2

1/4

"
6

1/8

"
1

1/8

"
7"
3

1/2

"
1"
OSHA Compliant 29 CFR 1910.184, ASME B30.9
2 to 20
0000000

9/32

5,200
7,400
9,100
__
1

5/8

"
5"

7/8

"
5

1/2

"
2

3/4

"

3/4

"
OSHA Compliant 29 CFR 1910.184, ASME B30.9
2 to 20
0000000

3/8

10,600
15,100
18,400
__
2

1/4

"
6

1/8

"
1

1/8

"
7"
3

1/2

"
1"
OSHA Compliant 29 CFR 1910.184, ASME B30.9
2 to 20
000000

Grade 100 Steel Chain

3/8

__
__
__
8,800
1

3/4

"
5

5/8

"
1"
5

5/16

"
3"

3/4

"
OSHA Compliant 29 CFR 1910.184, ASME B30.9
2 to 20
000000000

9/32

4,300
6,100
7,400
__
1

3/8

"
4

7/8

"

3/4

"
4

3/8

"
2

3/8

"

5/8

"
OSHA Compliant 29 CFR 1910.184, ASME B30.9
2 to 20
000000000

3/8

8,800
12,400
15,200
__
1

3/4

"
5

5/8

"
1"
6

5/16

"
3

9/16

"

15/16

"
OSHA Compliant 29 CFR 1910.184, ASME B30.9
2 to 20
000000000

9/32

6,400
9,100
11,200
__
1

3/8

"
4

7/8

"

3/4

"
6

5/16

"
3

9/16

"

15/16

"
OSHA Compliant 29 CFR 1910.184, ASME B30.9
2 to 20
0000000

3/8

13,200
18,700
22,900
__
1

3/4

"
5

5/8

"
1"
7

1/8

"
4"
1

1/16

"
OSHA Compliant 29 CFR 1910.184, ASME B30.9
2 to 20
0000000

9/32

6,400
9,100
11,200
__
1

3/8

"
4

7/8

"

3/4

"
6

5/16

"
3

9/16

"

15/16

"
OSHA Compliant 29 CFR 1910.184, ASME B30.9
2 to 20
0000000

3/8

13,200
18,700
22,900
__
1

3/4

"
5

5/8

"
1"
7

1/8

"
4"
1

1/16

"
OSHA Compliant 29 CFR 1910.184, ASME B30.9
2 to 20
0000000