Boring Rings for Machinable Lathe Chuck Jaws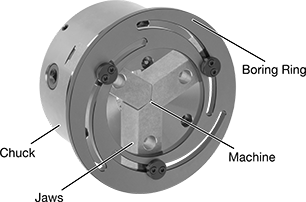 Standard Ring for Machining
Outside-Grip
Jaws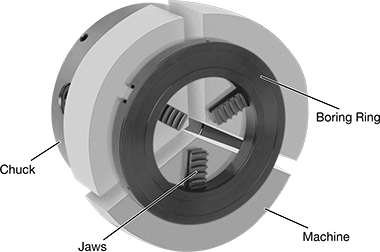 Adjustable Ring Installed for Machining
Inside-Grip
Jaws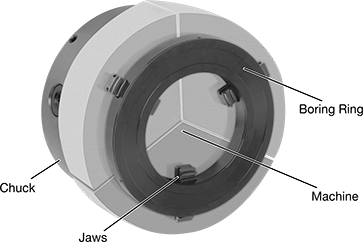 Adjustable Ring Installed for Machining
Outside-Grip
Jaws
Hold machinable lathe chuck jaws in place during machining to make accurate cuts, ensuring the jaws will securely grip your workpiece. These boring rings pin the jaws down, creating the same clamping pressure you'll use on your workpiece, which keeps the jaws from warping or deforming while they hold your workpiece.
Designed with an open center, these rings leave room for you to machine the center of your jaws. Fit the pins on the rings to the screw holes on your jaws, then clamp the jaws down to hold the ring in place. Once the ring is attached, rotate it to adjust the jaws to the center of their stroke before machining.
Match standard rings to your lathe chuck's diameter for machining the center of your jaws. Line them up with your jaws by sliding the pins along their curved tracks.
Adjustable rings fit a range of lathe chuck diameters. The pins are mounted to straight tracks—slide them in and out of the ring to adjust the diameter. They are also reversible, which allows you to machine both the inside and outside of your jaws. When the pin screws are outside the ring, you can machine the center of your jaws. Flip them around to the center of the ring to machine the outside of your jaws.
For Lathe
Chuck

Dia.

For Jaw Grip Style
OD
ID

Ht.

Dia.

Ht.

Max.




Speed,

rpm
Material
Each

Standard

6"
Outside
6.6"
3.2"
0.47"
0.65"
0.354"
900
Alloy Steel
00000000
0000000
8"
Outside
8.6"
4

1/2

"
0.47"
0.728"
0.354"
900
Alloy Steel
00000000
000000
10"
Outside
10.2"
5.9"
0.47"
0.728"
0.354"
900
Alloy Steel
00000000
000000
12"
Outside
12.4"
7.4"
0.59"
0.886"
0.354"
900
Alloy Steel
00000000
000000
15"
Outside
15"
9.1"
0.79"
1.22"
0.63"
900
Alloy Steel
00000000
000000

Adjustable

5"-8"
Inside, Outside
6.7"
3.9"
1.02"
0.512"
0.276"
800
Alloy Steel
00000000
000000
6"-10"
Inside, Outside
7.9"
4.9"
1.02"
0.642"
0.315"
700
Alloy Steel
00000000
000000
8"-12"
Inside, Outside
9.8"
6.3"
1.22"
0.72"
0.315"
600
Alloy Steel
00000000
000000