Mount to a lathe's spindle to hold round workpieces. Also known as scroll chucks, these are self centering—all three jaws move in unison, centering the workpiece as they close. Use the included lathe chuck wrench to open and close the jaws.
Chuck with solid jaws comes with one set of outside jaws and one set of inside jaws.
Chucks with reversible jaws come with one set of jaws that can be installed for either an inside or outside grip.
A mounting plate (sold separately) is required to mount the chuck to a lathe. Select a mounting plate that matches the diameter of the lathe chuck and your lathe's spindle type and spindle OD.
For technical drawings and 3-D models, click on a part number.

Solid Jaws
Chucks with Reversible Jaws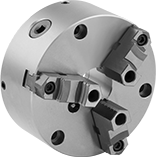 Reversible Jaws
Replacement
Reversible
Jaw Set

Dia.

OD
ID
Center


Through-Hole




Dia.

TIR


(Total Indicated Runout)


Accuracy
Overall


Lg.

Max.




Speed,


rpm
Material

Weight,




lbs.

Each
Each
6"
0.31"-5.51"
2.17"-5.91"
1.78"
0.0005"
2.76"
4,600
Steel
23
0000000
000000000
0000000
0000000
8"
0.39"-7.87"
2.17"-7.09"
2.37"
0.0005"
3.15"
4,000
Steel
37
0000000
00000000
0000000
000000
Mounting Plates for Three-Jaw Lathe Chucks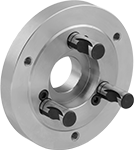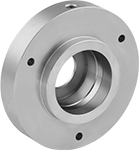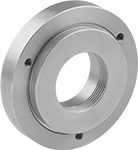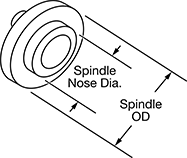 Lathe Spindle Dimensions
Type
OD
Size
Thread Size

Type

Dia.

Lg.

Center


Through-Hole

Dia.

Material
Each
A1, A2
2

1/8

"
3
__
A-3
3.725"
0.765"
1.28"
Steel
0000000
0000000
A1, A2
4

1/4

"
4
__
A-4
2

1/2

"
0.437"
1.28"
Steel
0000000
000000
D1 Camlock
3

5/8

"
3
__
D1-3
2

1/8

"
0.437"
1.28"
Steel
0000000
000000
D1 Camlock
4

1/4

"
4
__
D1-4
2

1/2

"
0.437"
1.28"
Steel
0000000
000000
Hardinge
3.126"
__
__
4-Degree
2.316"
1.472"
1.32"
Steel
0000000
000000
Threaded
5.11"
__
2

3/16

"-10
__
2

3/16

"
1.38"
2.19"
Steel
0000000
000000
A1, A2
5

1/4

"
5
__
A-5
3.251"
0.563"
1.8"
Steel
0000000
000000
A1, A2
6

1/2

"
6
__
A-6
4.188"

5/8

"
1.8"
Steel
0000000
000000
A1, A2
8

1/4

"
8
__
A-8
5.501"
0.688"
1.8"
Steel
0000000
00000000
D1 Camlock
4

1/4

"
4
__
D1-4
2

1/2

"
0.437"
1.8"
Steel
0000000
000000
D1 Camlock
7

1/8

"
6
__
D1-6
4.188"

5/8

"
1.8"
Steel
0000000
000000
Hardinge
3.126"
__
__
4-Degree
2.316"
1.472"
1.32"
Steel
0000000
000000
Threaded
6

1/2

"
__
2

3/16

"-10
__
2

3/16

"
1.63"
2.19"
Steel
0000000
000000
A1, A2
5

1/4

"
5
__
A-5
3.251"
0.563"
2.39"
Steel
0000000
000000
A1, A2
6

1/2

"
6
__
A-6
4.188"

5/8

"
2.39"
Steel
0000000
000000
A1, A2
8

1/4

"
8
__
A-8
5.501"
0.688"
2.39"
Steel
0000000
000000
D1 Camlock
4

1/4

"
4
__
D1-4
2

1/2

"
0.437"
2.4"
Steel
0000000
000000
D1 Camlock
7

1/8

"
6
__
D1-6
4.188"

5/8

"
2.39"
Steel
0000000
000000