Router Baseplate with Guide Bushings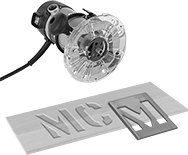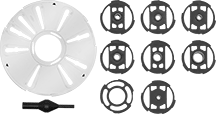 Control the distance between a template and router bit for making precise cuts. These kits are for use with pilotless router bits. To set the correct distance for the cut, choose from among the six included bushing sizes. After mounting the baseplate to a router, slide and turn bushings by hand to lock them in place.
Dia.

Material
Color
Sizes
Included
Material
Mounting
Hardware
Included
Includes
Each
7"
Plastic
Clear

5/16

",

3/8

",

7/16

",

1/2

",

5/8

",

51/64

"
Plastic, Steel
Yes
Bushing Adapter, Centering Pin
0000000
000000
Router Circle Guides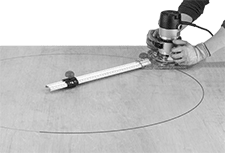 Make precise circular cuts with your plunge-base router. To set up your cut, mount the baseplate to your router, drill a starter hole for the centering pin, and connect a circle guide between the pin and baseplate. Once connected, the guide holds the router at the correct distance from the circle center. Use the small circle guide to make 1 1/2"-12" diameter cuts; the large circle guide makes cuts with a 10"-52" diameter. These kits include a router bit and drill bit as well as an offset base for improved stability while finishing edges.
For Cut

Dia.

Graduation
Marks
Numeric
Increments
Material
Mounting
Hardware Included
Includes
Each
1

1/2

"-12", 10"-52"
16ths
1"
Plastic
Yes
Small Circle Guide, Large Circle Guide, Offset Base, Baseplate, Centering Pin,

1/4

" Straight Router Bit,

3/32

" Brad Point Drill Bit
0000000
000000
Drafting Templates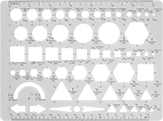 Arrows,
Circles,
Hexagons,
Squares,
and Triangles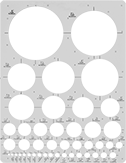 Circles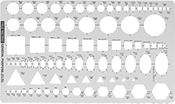 Circles,
Hexagons,
Isometric
Ellipses,
Squares,
and Triangles
Trace shapes such as circles, polygons, arrows, and ellipses.
Template
Type
Shape
Size
Number
of
Shapes

Lg.

Wd.

Material
Each

Inch

Arrows, Circles, Hexagons, Squares, Triangles

1/16

"-1

1/2

"
56
8"
5

7/8

"
Plastic
0000000
000000
Circles

1/16

"-1

3/8

"
39
7

1/4

"
4"
Plastic
0000000
00000
Circles

1/16

"-3"
44
10"
7"
Plastic
0000000
00000
Circles
1

1/4

"-3

1/2

"
13
11

1/2

"
8

3/4

"
Plastic
0000000
00000

Metric

Circles
2mm-34mm
41
9"
4

5/8

"
Plastic
0000000
00000
Circles
2mm-48mm
46
10

1/8

"
7

5/8

"
Plastic
0000000
00000
Circles
25mm-85mm
13
12"
8

13/16

"
Plastic
0000000
00000
Circles, Hexagons, Isometric Ellipses (25°, 35°, 45°, and 60° Projections), Squares, Triangles
2mm-30mm
81
9

7/8

"
5

7/8

"
Plastic
0000000
00000