Clad
High-Strength

2024 Aluminum Sheets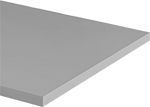 Yield

Strength:




6" × 6":

45,

000 psi
All other

sizes:

42,

000 psi

Hardness:

Not Rated

Temper: T3

Fabrication:

Cold Rolled
Specifications

Met:

ASTM

B209,

SAE AMS-QQ-A-

250/5,

SAE AMS4462
These sheets are clad in 1230 aluminum for an added layer of corrosion resistance. While 2024 aluminum was initially designed for structural components in aircraft, it's now widely used when a high strength-to-weight ratio is needed, such as for gears, shafts, and fasteners. It offers similar performance to 7075 aluminum, but it's not as strong.
For technical drawings and 3-D models, click on a part number.

Certificates with a traceable lot number are available for these products. Download certificates from ORDER HISTORY after your order ships.
Thick.

Thick.

Tolerance
Heat
Treatment
Temperature Range
Each
0.016"
-0.0030" to 0.0030"
Hardened
-320° F to 300° F
0000000
00000
0.025"
-0.0020" to 0.0020"
Hardened
-320° F to 300° F
0000000
0000
0.032"
-0.0020" to 0.0020"
Hardened
-320° F to 300° F
0000000
0000
0.040"
-0.0030" to 0.0030"
Hardened
-320° F to 300° F
0000000
0000
0.050"
-0.0040" to 0.0040"
Hardened
-320° F to 300° F
0000000
0000
0.090"
-0.0050" to 0.0050"
Hardened
-320° F to 300° F
0000000
00000
0.016"
-0.0015" to 0.0015"
Hardened
Not Rated
0000000
00000
0.025"
-0.0015" to 0.0015"
Hardened
Not Rated
0000000
00000
0.032"
-0.0015" to 0.0015"
Hardened
Not Rated
0000000
00000
0.040"
-0.0020" to 0.0020"
Hardened
Not Rated
0000000
00000
0.050"
-0.0020" to 0.0020"
Hardened
Not Rated
0000000
00000
0.063"
-0.0020" to 0.0020"
Hardened
Not Rated
0000000
00000
0.090"
-0.0025" to 0.0025"
Hardened
Not Rated
0000000
00000
0.125"
-0.0035" to 0.0035"
Hardened
Not Rated
0000000
00000
0.016"
-0.0015" to 0.0015"
Hardened
Not Rated
0000000
00000
0.025"
-0.0015" to 0.0015"
Hardened
Not Rated
0000000
00000
0.032"
-0.0015" to 0.0015"
Hardened
Not Rated
0000000
00000
0.040"
-0.0020" to 0.0020"
Hardened
Not Rated
0000000
00000
0.050"
-0.0020" to 0.0020"
Hardened
Not Rated
0000000
00000
0.063"
-0.0020" to 0.0020"
Hardened
Not Rated
0000000
000000
0.090"
-0.0025" to 0.0025"
Hardened
Not Rated
0000000
000000
0.125"
-0.0035" to 0.0035"
Hardened
Not Rated
0000000
000000