Ultra-Chemical-Resistant

Metal-Detectable

PTFE Gaskets
for

Extra-Support

Quick-Clamp

Sanitary Tube Fittings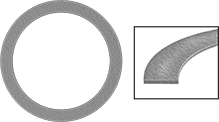 Made from a blend of PTFE and 316 stainless steel, these gaskets hold up to the harsh chemicals, high pressures, and high temperatures used in sanitary processes. They'll set off metal detectors if they fall into your line, so you can prevent contaminated material from leaving your facility. This helps you comply with Hazard Analysis and Critical Control Point (HACCP) programs. Use them with extra-support quick-clamp sanitary tube fittings (also known as I-line fittings) to create a tight, leak-proof seal.
These gaskets are more durable and last longer than standard PTFE seals. To protect against leaks, they won't warp or deform, even in steam or hot oil, and they won't degrade from harsh cleaners. They're also chemically inert, so they won't contaminate your line by absorbing and leaching substances (except when used with molten alkali metal or elemental fluorine). They're often used in applications where purity is essential, such as in food, pharmaceutical, or biotech facilities.
The interior of these gaskets is extremely smooth, so they're easy to clean and bacteria has nowhere to grow. They're Animal Derived Ingredient (ADI) free, meaning they are made without animal products, and they're FDA compliant for direct contact with food. Made to the highest standards of sanitary design, these gaskets are 3-A and USP VI certified. They're also tested to USP 87 standards, which are created by the United States Pharmacopoeia (USP) for safety in biological applications.
For technical drawings and 3-D models, click on a part number.
For
Tube
OD
ID
OD

Thick.

Temperature


Range,




°F

Hardness
Hardness
Rating
Color
Specifications
Met
Each
1"
0.91"
1.27"
0.072"
-350° to 550°
Durometer 68D
Extra Hard
Gray
3-A Certified 20-27, FDA Compliant 21 CFR 177.1550, USP VI Certified
0000000
000000
1

1/2

"
1.41"
1.76"
0.072"
-350° to 550°
Durometer 68D
Extra Hard
Gray
3-A Certified 20-27, FDA Compliant 21 CFR 177.1550, USP VI Certified
0000000
00000
2"
1.88"
2.26"
0.072"
-350° to 550°
Durometer 68D
Extra Hard
Gray
3-A Certified 20-27, FDA Compliant 21 CFR 177.1550, USP VI Certified
0000000
00000
2

1/2

"
2.40"
2.77"
0.072"
-350° to 550°
Durometer 68D
Extra Hard
Gray
3-A Certified 20-27, FDA Compliant 21 CFR 177.1550, USP VI Certified
0000000
00000
3"
2.88"
3.32"
0.072"
-350° to 550°
Durometer 68D
Extra Hard
Gray
3-A Certified 20-27, FDA Compliant 21 CFR 177.1550, USP VI Certified
0000000
00000
4"
3.89"
4.30"
0.072"
-350° to 550°
Durometer 68D
Extra Hard
Gray
3-A Certified 20-27, FDA Compliant 21 CFR 177.1550, USP VI Certified
0000000
00000