Clean Room Washable
Wet-Mop

Heads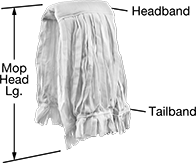 Use this mop head in clean rooms. It has loop ends, which makes it lower linting than mop heads with cut ends. Tubular strands resist fraying and unraveling. A tailband prevents tangling and allows the strands to lay flat for wide, even mop coverage. Use with Corrosion-Resistant Wet Mop Handles (sold separately).
Mop Head Weight—Sometimes referred to as a mop's size, this is the actual weight of the dry mop head. The heavier the mop head, the more liquid it can hold.
Note: Mop head length and width measurements are approximate.
Weight,




oz.

Lg.

Wd.

Color
Attachment
End
Type
Headband


Dp.

Environmental Rating

1-11

12-Up

Polyester Fabric

16
15

1/4

"
7

1/2

"
White
Slip On
Loop
3"
Fed. Std. Class 1, ISO Class 3
00000000
000000
000000