Clean Room Sorbents
Absorb spills, catch drips, and control leaks in clean room environments. These sorbents are cleaned and bagged and don't release as much lint or dust as other sorbents. Clean room rating indicates the acceptable level of contaminants; the lower the rating, the cleaner the environment. Not for use with aggressive liquids, such as hydrochloric acid.
Pillows are thicker than pads, so they soak up more liquid. Use them for chemical- and oil-based spills.
Wrap socks around irregular surfaces, corners, and machines to absorb chemical- and oil-based spills.

Pillow
Wd.

Lg.

Material
Color
Environmental Rating
Spill


Cap.,

gal.

Each

For Use With

Chemicals,

Oil

12"
12"
Polyester Fabric
White
Fed. Std. Class 1,000; ISO Class 6
0.6
0000000
000000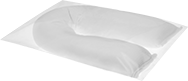 Sock
Dia.

Lg.

Material
Color
Environmental Rating
Spill


Cap.,

gal.

Each

For Use With

Chemicals,

Oil

3"
36"
Polyester Fabric
White
Fed. Std. Class 1,000; ISO Class 6
0.6
0000000
000000