Hand-Held

Sanding Abrasive Cleaners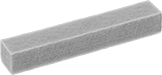 Remove material buildup from the abrasive surface of a moving belt or roll, extending the service life.
Lg.

Wd.

Thick.

Each
6"
1

3/8

"
1

3/8

"
0000000
000000
Miniature Wipes and Cleaning Rods

Miniature Wipe with Cleaning Rod
(Sold Separately)
Also known as cleaning patches, these mini wipes can be used alone or with cleaning rods (sold separately) to clean inside small or narrow openings. To use with the rod, fold wipe through the looped tip on the end of the rod.
Textured wipes are abrasive for more aggressive cleaning.