Electrical Properties

Electrical Properties
DFARS (Defense Acquisition Regulations Supplement)

DFARS

(Defense

Acquisition

Regulations

Supplement)
REACH (Registration, Evaluation, Authorization and Restriction of Chemicals)

REACH

(Registration,




Evaluation,

Authorization
and Restriction of

Chemicals)
RoHS (Restriction of Hazardous Substances)

RoHS

(Restriction

of
Hazardous

Substances)
Specifications Met

Specifications Met
Grounding Rod Clamps
Connect bare-copper ground wire to grounding rods.
Dual nut clamps give you more flexibility than single nut clamps.
Two-piece design clamps are easier to install onto bends and continuous loops than other single- and dual-nut clamps.
For clamps with lay-in wire, there's no need to thread wire through them. Simply lay the wire into the clamp's opening and fasten.
UL 467 clamps meet a standard for direct burial.
For technical drawings and 3-D models, click on a part number.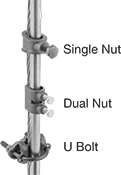 Dual Nut with
Two-Piece
Design and
Lay-In
Wire
For Rod


Dia.




(For Wire Gauge)

Material
Features
Specifications
Met
Each

Dual Nut

1/4

"-1" (10, 9, 8, 7, 6, 5, 4, 3, 2)
Bronze
Lay-In Wire, Two-Piece Design
__
0000000
000000

1/2

" (6, 5, 4, 3, 2, 1, 1/0, 2/0, 3/0, 4/0, 250 MCM, 300 MCM, 350 MCM)

5/8

" (6, 5, 4, 3, 2, 1, 1/0, 2/0, 3/0, 4/0, 250 MCM, 300 MCM, 350 MCM)

3/4

" (2, 1, 1/0, 2/0, 3/0, 4/0, 250 MCM)

Bronze
__
UL 467
0000000
00000