About Gas Springs
Gas springs are typically used to assist in opening lids, covers, windows, conveyors, and seats—similar to a hatchback opening on a car.
Pulling Gas Springs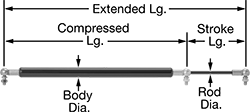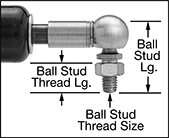 Also known as tension and traction gas springs, these work in the opposite direction of other gas springs. Similar to a screen door closing, they're used to assist in closing covers, hoods, and doors. Gas springs have a ball socket end fitting and ball stud on each end for mounting. Ball socket end fittings rotate in any direction on the ball stud to compensate for misalignment.
For technical drawings and 3-D models, click on a part number.
Extended


Lg.

Compressed


Lg.

Stroke


Lg.

Max.


Cycles
per Minute
Body


Dia.

Dia.

Thread
Size

Removable
End
Fittings
End
Thread
Size

Lg.

Thread


Lg.

Thread
Size

Material
Temperature


Range,




°F

Compression


Force,




lbs.

Each

Steel Body and Rod

10.04"
8.07"
1.97"
15
1.1"
0.39"
M10

Yes
M10

1.42"
0.65"
M8

Zinc-Plated Steel
-22° to 176°
000000
0000000
12.01"
9.06"
2.95"
10
1.1"
0.39"
M10

Yes
M10

1.42"
0.65"
M8

Zinc-Plated Steel
-22° to 176°
000000
000000
13.98"
10.04"
3.94"
8
1.1"
0.39"
M10

Yes
M10

1.42"
0.65"
M8

Zinc-Plated Steel
-22° to 176°
000000
000000
15.94"
11.02"
4.92"
6
1.1"
0.39"
M10

Yes
M10

1.42"
0.65"
M8

Zinc-Plated Steel
-22° to 176°
000000
000000
16.91"
12.91"
4"
7
0.87"
0.31"
M8

Yes
M8

1.42"
0.65"
M8

Zinc-Plated Steel
-22° to 176°
000000
00000
17.91"
12.01"
5.9"
5
1.1"
0.39"
M10

Yes
M10

1.42"
0.65"
M8

Zinc-Plated Steel
-22° to 176°
000000
000000
21.85"
13.98"
7.87"
4
1.1"
0.39"
M10

Yes
M10

1.42"
0.65"
M8

Zinc-Plated Steel
-22° to 176°
000000
000000
26.18"
16.14"
10.04"
3
1.1"
0.39"
M10

Yes
M10

1.42"
0.65"
M8

Zinc-Plated Steel
-22° to 176°
000000
000000
28.5"
20.63"
7.87"
4
0.87"
0.31"
M8

Yes
M8

1.42"
0.65"
M8

Zinc-Plated Steel
-22° to 176°
000000
000000
30.11"
18.11"
12"
2
1.1"
0.39"
M10

Yes
M10

1.42"
0.65"
M8

Zinc-Plated Steel
-22° to 176°
000000
000000