Variable-Speed

Precise-Positioning

Compact

Air-Powered

Chain Hoists
Change or hold the speed at any time during operation so you can start the hoist softly and gradually decelerate. They are small and lightweight so you can easily move them between jobs. Hoists have a cool-running motor for continuous operation. The brake stops the load and holds it in place when you're not lifting, and overload protection prevents hoists from operating if the load exceeds capacity.
A filter-regulator-lubricator (not included) is required to lubricate the gears and clean and regulate the incoming air.
Warning: Never use to lift people or items over people.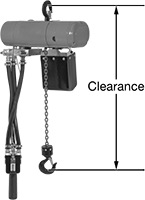 Chain Hoist
tons

lbs.

Lifting


Speed,


fpm
Clearance
Hook
Opening


Wd.

Inlet
Thread
Type
Inlet
Pipe
Size

Air
Consumption
@ Pressure
Duty
Cycle
Specifications
Met

10-ft.


Lift

15-ft.


Lift

20-ft.


Lift

Aluminum with Chain Container and Overload Protection

CM ShopAir

1/8

300
31
11"
1"
NPT

3/8

34 cfm @ 90 psi
Continuous Use
ASME B30.16, ASME HST-5, CSA B167
0000000

1/4

500
21
11"
1"
NPT

3/8

34 cfm @ 90 psi
Continuous Use
ASME B30.16, ASME HST-5, CSA B167
0000000

1/4

600
16
12"
1"
NPT

3/8

34 cfm @ 90 psi
Continuous Use
ASME B30.16, ASME HST-5, CSA B167
0000000

1/2

1,000
11
12"
1"
NPT

3/8

34 cfm @ 90 psi
Continuous Use
ASME B30.16, ASME HST-5, CSA B167
0000000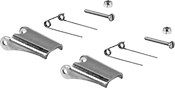 Replacement Latch Kit