Super-Resilient

High-Temperature

Silicone Foam Sheets and Strips
This premium silicone is the most resilient foam we offer. It withstands repeated compression through a wide range of temperatures. It's equivalent to Cohrlastic and is also known as Norseal and silicone sponge. This foam has closed-cell construction, which restricts water, air, and gases from being absorbed. These sheets and strips have a crisscross texture that provides a nonslip gripping surface.
For technical drawings and 3-D models, click on a part number.
Adhesive-Back Sheets with Crisscross Texture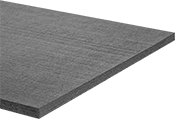 Color:

Brown
Temperature

Range:

-100° to 500° F

Cell

Type:

Closed

For Use

Outdoors:

Yes

Density:

29

lbs./cu.

ft.

Pressure to Compress

25%:

9 psi

(Soft)

Tensile Strength

Rating:

Good

Oil-

Resistance

Rating:

Not Rated
Thick.

Thick.

Tolerance
Type
Temperature


Range,

°F

Each

1/16

"
-0.015" to +0.015"
Acrylic
-40° to 250°
00000000
000000

1/8

"
-0.031" to +0.031"
Acrylic
-40° to 250°
00000000
00000

3/16

"
-0.031" to +0.031"
Acrylic
-40° to 250°
00000000
000000

1/4

"
-0.047" to +0.047"
Acrylic
-40° to 250°
00000000
000000

3/8

"
-0.047" to +0.047"
Acrylic
-40° to 250°
00000000
000000

1/2

"
-0.047" to +0.047"
Acrylic
-40° to 250°
00000000
000000
Adhesive-Back Strips with Crisscross Texture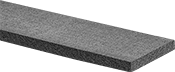 Color:

Brown
Temperature

Range:

-100° to 500° F

Cell

Type:

Closed

For Use

Outdoors:

Yes

Density:

29

lbs./cu.

ft.

Pressure to Compress

25%:

9 psi

(Soft)

Tensile Strength

Rating:

Good

Oil-

Resistance

Rating:

Not Rated
Thick.

Thick.

Tolerance
Type
Temperature


Range,

°F

Each

1/16

"
-0.015" to +0.015"
Acrylic
-40° to 250°
00000000
000000

1/8

"
-0.031" to +0.031"
Acrylic
-40° to 250°
00000000
00000

3/16

"
-0.031" to +0.031"
Acrylic
-40° to 250°
00000000
00000

1/4

"
-0.047" to +0.047"
Acrylic
-40° to 250°
00000000
00000

3/8

"
-0.047" to +0.047"
Acrylic
-40° to 250°
00000000
00000

1/2

"
-0.047" to +0.047"
Acrylic
-40° to 250°
00000000
00000

1/16

"
-0.015" to +0.015"
Acrylic
-40° to 250°
00000000
00000

1/8

"
-0.031" to +0.031"
Acrylic
-40° to 250°
00000000
00000

3/16

"
-0.031" to +0.031"
Acrylic
-40° to 250°
00000000
00000

1/4

"
-0.047" to +0.047"
Acrylic
-40° to 250°
00000000
00000

3/8

"
-0.047" to +0.047"
Acrylic
-40° to 250°
00000000
00000

1/2

"
-0.047" to +0.047"
Acrylic
-40° to 250°
00000000
00000

1/16

"
-0.015" to +0.015"
Acrylic
-40° to 250°
00000000
00000

1/8

"
-0.031" to +0.031"
Acrylic
-40° to 250°
00000000
00000

3/16

"
-0.031" to +0.031"
Acrylic
-40° to 250°
00000000
00000

1/4

"
-0.047" to +0.047"
Acrylic
-40° to 250°
00000000
00000

3/8

"
-0.047" to +0.047"
Acrylic
-40° to 250°
00000000
00000

1/2

"
-0.047" to +0.047"
Acrylic
-40° to 250°
00000000
00000

3/16

"
-0.031" to +0.031"
Acrylic
-40° to 250°
00000000
00000

1/4

"
-0.047" to +0.047"
Acrylic
-40° to 250°
00000000
000000

3/8

"
-0.047" to +0.047"
Acrylic
-40° to 250°
00000000
000000

1/2

"
-0.047" to +0.047"
Acrylic
-40° to 250°
00000000
000000

1/16

"
-0.015" to +0.015"
Acrylic
-40° to 250°
00000000
00000

1/8

"
-0.031" to +0.031"
Acrylic
-40° to 250°
00000000
000000

3/16

"
-0.031" to +0.031"
Acrylic
-40° to 250°
00000000
000000

1/4

"
-0.047" to +0.047"
Acrylic
-40° to 250°
00000000
000000

3/8

"
-0.047" to +0.047"
Acrylic
-40° to 250°
00000000
000000

1/2

"
-0.047" to +0.047"
Acrylic
-40° to 250°
00000000
000000