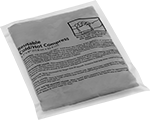 Reusable
Hot/Cold
Pack Shown
Cold and Hot Packs—Squeeze to break the inner bag for instant activation.
Reusable Hot/Cold Pack—For cold, freeze for one hour. For heat, microwave for 50 seconds or place in boiling water for two minutes.
Cold Sprays

Spray on sprains and muscle pulls to reduce swelling and pain. This spray cannot be sold outside the United States due to import regulations and product registration requirements.
Container Net


Weight,

oz.

Cannot Be Sold To

Pkg.




Qty.

Pkg.

4
Outside United States
1
00000000
00000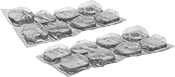 Durable and reusable, these packs are less messy and keep contents colder longer than ice. Often used with beverages and food, they keep things cold but not frozen. All flex to wrap around objects and fit into tight spaces. The packs consist of smaller cubes that can be cut apart and used individually.