Contact-Sensing

Robot Safety Padding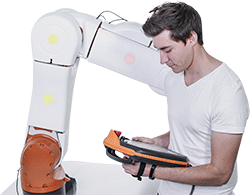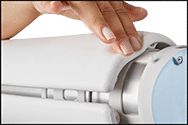 Cover robot arms and tools with this padding to help prevent injuries in areas where people are working nearby. When the padding is touched, pressure sensors signal your machine to stop moving, halting it within nine milliseconds. If a collision takes place, the soft polyurethane foam will lessen the impact. With this padding installed, you can operate robots closer to people and at higher speeds than with other safety equipment, such as machine guards. You can also combine it with other equipment to create multi-step safety systems.
Each pad has LEDs that change color to indicate their status. When the lights are blue, the padding is fully operational. Pads that sense a pressure change turn red and the surrounding pads turn yellow, clearly showing the impact area. They're powered by internal micropumps, so you don't need an outside compressed air source. The double circuit design makes sure that if one circuit fails, the other will continue to function.
All components meet international design standards for safety. Using this padding helps you meet ISO/TS 15066 standards for safe interactions between humans and robots. Before running robots, you should carry out a safety risk assessment as described in ANSI/RIA R15.06 to ensure a safe environment for those working near the robot.
For technical drawings and 3-D models, click on a part number.