Dual Compartment
Step-Open

Waste and Recycling Containers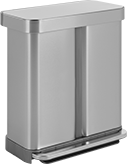 Waste and Recycling Container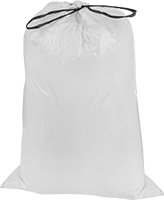 Replacement Garbage Bag
Dispose of waste and recycling in a single container, while still keeping them separate—these containers open hands-free with their foot pedal and close softly. The recycling side has a removable blue liner with a handle, so it's easy to remove and see which bin is for recycling. On the garbage side, a rim holds garbage bags in place; there's no inner liner, which means there's more room for trash. Store extra bags in the built-in garbage bag dispenser.
Made of stainless steel, these containers are durable and won't rust from small spills. However, they're recommended for indoor use only. Their surface has a protective finish that curbs the growth of bacteria, fungi, mold, and mildew, and also prevents smudges, leaving containers looking clean and shiny. The active ingredient in the protective finish is EPA registered.
One pack of garbage bags is included. The bags are made of thick plastic with double seams to prevent rips. Drawstring handles make them easy to lift, tie, and carry.