Hydraulic Compression Lug and Splice Crimpers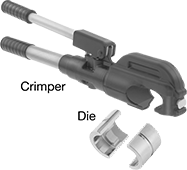 The most crimping force we offer—these tools have a high-pressure pumping system with a replaceable pressure cartridge that lasts for 10,000 to 12,000 compressions. The head swivels 180°.
Dies are required. The tools accept U-type dies for Alcoa, Burndy, Panduit, T&B, and Blackburn 12-ton tools. We list lug markings for two common manufacturers to help choose the correct die for your compression lug.
Replacement
Pressure
Cartridges

Jaw
Opening
For
Wire
Type

Compression


Force,


tons

Lg.

Material
Handle
Material
Includes
Each
Each
1.00"
Solid, Stranded
12
23"
Steel
Fiberglass
Plastic Carrying Case, Pressure Cartridge
000000
000000000
000000
0000000
1.65"
Solid, Stranded
12
25"
Steel
Fiberglass
Plastic Carrying Case, Pressure Cartridge
000000
00000000
000000
000000