Protectors for Robot Teach Pendants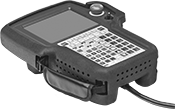 Drop, scrape, or spill on your robot teach pendants (also known as HMIs)—these protectors will guard them, preventing downtime due to damage. With a size and shape tailored to your teach pendant, each protector fits snugly without blocking buttons or other features.
All cases cover the back and sides of teach pendants. Made of Santoprene rubber, they resist water and most water-based cleaners, as well as many industrial coolants, lubricants, and cutting fluids. Their textured surface makes them easy to grip, even when they're wet.
Cases with a mounting handle have a handle that doubles as a hanger, so you can easily mount them on equipment or walls.
Cases with a mounting hook include everything you need to replace the original hook on your electronics cabinet, which may not fit with the case around the pendant.
Cases with a cradle adapter allow teach pendants to fit snugly into their original holder, despite the added bulk of the case.
Screen protectors guard against scratches, oils, and greases without disrupting touch-screen functionality.
Protective Cases for Mobile Devices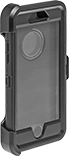 Hard Phone
Case with
Screen Protector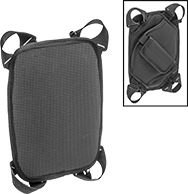 Soft iPad Case
Safeguard your mobile devices from damage.
Hard cases insulate devices from accidental drops and bumps around your facility. Their port covers block out dirt, dust, and lint. For a firm hold even when you're wearing gloves or have dirty hands, they have a nonslip gripping surface. Cases with a belt clip keep your phone secure while you work.
Soft cases attach with corner loops. They have a padded hand strap for holding your tablet while you work.
For
Use
With
Material
Color
Features
Includes
Each

Hard

iPhone 6/6S Smartphones
Plastic
Black
Screen Protector, Belt Clip
__
0000000
000000
iPhone 7 Plus Smartphones, iPhone 8 Plus Smartphones
Plastic
Black
Screen Protector, Belt Clip
__
0000000
00000

Soft

iPad Tablets
Rubber
Black
Padded Hand Strap
Accessory Pouch, Shoulder Strap
0000000
00000
Screen Covers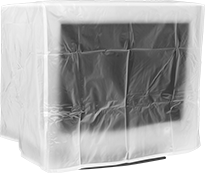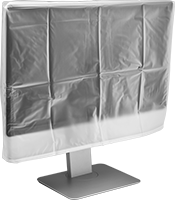 Slip these flexible covers over your monitor for protection from dust.
Screen Protectors for Phones


Protect your mobile device screens from smudges and scratches. Thicker than plastic, these glass protectors are better at shielding your screen from drops, bumps, and scratches. However, their edges are noticeable. These protectors won't create air bubbles under the surface when you press them onto your screen, making them easy to apply.
For Manufacturer Model

Ht.

Wd.

Each

Glass Protectors

For Apple iPhone

X, XS
5

5/8

"
2

3/4

"
00000000
000000
11, 12, 12 Pro, XR
5

3/4

"
2

13/16

"
00000000
00000
11 Pro Max
6

3/16

"
3

1/16

"
00000000
00000
12 Mini
5

3/16

"
2

1/2

"
00000000
00000

For Samsung Galaxy

S10
5

7/8

"
2

3/4

"
00000000
00000
S10 Plus
6

3/16

"
2

7/8

"
00000000
00000
S20, S20 5G
5

15/16

"
2

11/16

"
00000000
00000
S20 Plus, S20 Plus 5G
6

5/16

"
2

7/8

"
00000000
00000
S20 Ultra, S20 Ultra 5G
6

1/2

"
2

15/16

"
00000000
00000