Tube Plugs for Heat Exchangers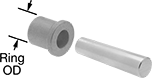 Plug leaky internal tubes in heat exchangers with these two-piece ring and pin sets. Insert the ring into the tube and hammer the pin into the ring for a secure seal. If you do not know the tube OD or wall thickness, measure the tube ID and select the closest ring OD.
For technical drawings and 3-D models, click on a part number.
Ring
OD
For Tube
Wall

Thick.

Temp.

Range
Includes
Set
0.37"
0.065"
-30°F to 1200° F
One Pin, One Ring
00000000
000000
0.39"
0.058"
-30°F to 1200° F
One Pin, One Ring
00000000
00000
0.4"
0.049"
-30°F to 1200° F
One Pin, One Ring
00000000
00000
0.41"
0.042"
-30°F to 1200° F
One Pin, One Ring
00000000
00000
0.43"
0.035"
-30°F to 1200° F
One Pin, One Ring
00000000
00000
0.46"
0.083"
-40°F to 500° F
One Pin, One Ring
00000000
00000
0.49"
0.072"
-40°F to 500° F
One Pin, One Ring
00000000
00000
0.5"
0.065"
-40°F to 500° F
One Pin, One Ring
00000000
00000
0.51"
0.058"
-40°F to 500° F
One Pin, One Ring
00000000
00000
0.53"
0.049"
-40°F to 500° F
One Pin, One Ring
00000000
00000
0.55"
0.042"
-40°F to 500° F
One Pin, One Ring
00000000
00000
0.57"
0.035"
-40°F to 500° F
One Pin, One Ring
00000000
00000
0.59"
0.083"
-40°F to 500° F
One Pin, One Ring
00000000
00000
0.61"
0.072"
-40°F to 500° F
One Pin, One Ring
00000000
00000
0.63"
0.065"
-40°F to 500° F
One Pin, One Ring
00000000
00000
0.64"
0.058"
-40°F to 500° F
One Pin, One Ring
00000000
00000
0.66"
0.049"
-40°F to 500° F
One Pin, One Ring
00000000
00000