Corrosion-Resistant

Pin-and-Sleeve

Connectors
When used together, connectors maintain a watertight and corrosion-resistant NEMA 4X connection. All meet UL 1686 and are fully interchangeable with other UL 1686 configured and listed devices.
3W4P (three wire four pole) connectors have a ground pin that is included in the number of poles. They are marked 3W4P.
Receptacles include a mounting box with a conduit entry hub.
For technical drawings and 3-D models, click on a part number.
15° Elbow Female Receptacles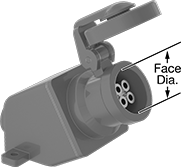 A

B

C
Face


Dia.

No.


of
Poles

No.

of
Ground
Connections

No.


of
Wires
Industry
Designation
Electrical
Phase
Current
Voltage
Wire
Connection
Type
For
Wire
Gauge
Trade
Size

Thread
Type

Temp.




Range,




°F

Each
A
2.3"
3
0
3
3W3P
Three
60A
250V DC/600V AC
Screw Terminals
6-2
1

1/2

NPT

-55° to 100°
0000000
0000000
A
2.5"
3
0
3
3W3P
Three
100A
250V DC/600V AC
Screw Terminals
4-2
1

1/2

NPT

-55° to 100°
0000000
000000
B
2.5"
4
0
4
4W4P
Three
60A
250V DC/600V AC
Screw Terminals
6-2
1

1/2

NPT

-55° to 100°
0000000
000000
B
2.8"
4
1
3
3W4P
Three
100A
250V DC/600V AC
Screw Terminals
4-2
1

1/2

NPT

-55° to 100°
0000000
00000000
C
2.5"
4
1
3
3W4P
Three
60A
250V DC/600V AC
Screw Terminals
6-2
1

1/2

NPT

-55° to 100°
0000000
000000
C
2.8"
4
0
4
4W4P
Three
100A
250V DC/600V AC
Screw Terminals
4-2
1

1/2

NPT

-55° to 100°
0000000
00000000