Sticky Fly Paper
Suspend from your ceiling or line windows and walls to catch flying insects on the sticky surface.
This fly paper cannot be sold to Canada due to import regulations.
Ribbon hangs from ceilings or ledges and is sticky on both sides.
Sheet lines windows and other flat surfaces. It's sticky on one side with an adhesive strip on the other side.
Light-Absorbing

Black-Out

Paper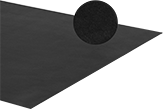 Block out stray and unwanted light. These sheets of black-out paper have a raised, velvet-like surface that absorbs light. Cut to size with scissors or a utility knife.
Backing
Type

Lg.

Wd.

Thick.

Max.




Temp.,

°F

Material

Pkg.




Qty.

Pkg.

Adhesive
30"
20"
0.02"
165°
Paper
2
000000
000000