Heated Ultrasonic Cleaners
Heat cleaning solutions to increase their effectiveness. These ultrasonic cleaners use sound waves moving through the solution to create a scrubbing action that removes dirt from crevices and between tightly spaced parts.
Heavy duty baskets have solid sides with a perforated mesh bottom. They're more durable than wire mesh baskets.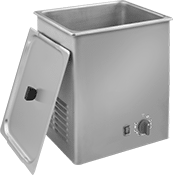 Cap.,




qt.

Lg.

Wd.

Ht.

Lg.

Wd.

Ht.

Frequency,


kHz
Wattage
Voltage

Max.

Timer


Duration,




min.

Features
Includes
Each
14

1/2

11

1/2

"
9

1/4

"
8"
12

3/4

"
10

1/2

"
14

1/4

"
43
425
120V AC
60
Timer, Heater, Drain
Stainless Steel Cover
0000000
000000000


For Cleaner


Cap.,

qt.

Cap.,




lbs.

Lg.

Wd.

Lg.

Wd.

Ht.

Mesh
Opening

Wd.

Wire


Dia.

Each

304 Stainless Steel

10, 14

1/2

5
10

3/4

"
8

1/2

"
8

1/2

"
7

1/4

"
4

7/8

"
0.222"
0.028"
0000000
0000000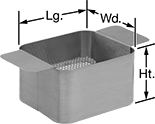 For Cleaner


Cap.,

qt.

Cap.,




lbs.

Lg.

Wd.

Lg.

Wd.

Ht.

Mesh
Opening

Dia.

Each

304 Stainless Steel

10, 14

1/2

10
10

1/2

"
8

1/4

"
10

1/2

"
8

1/4

"
5"
0.156"
0000000
0000000