Quick-Clamp

Stainless Steel Bottles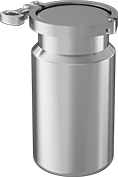 Fill these air-and liquid-tight bottles directly from your line to store, test, and ship liquids. Connect to a quick-clamp fitting (also known as tri-clamp) with the included seal and clamp to fill, then secure the contents with the lid. Bottles are 316L stainless steel, which is easy to clean and does not react to the acids and alkalies in food, or chemicals such as sulfuric acid. The extra-smooth interior is polished to prevent product buildup and inhibit bacteria growth. These bottles are engraved with lot numbers for traceability and include a material test report.
Bottles with a capacity up to 3.8 fl. oz., also known as stability bottles, are often used to test pharmaceuticals, chemicals, and beverages for changes over time.
Capacity

Dia.

Ht.

Flange
OD
For
Tube
OD

Gauge,




ga.

Interior


Smoothness,


Ra
Seal
Material
Autoclavable
Passivation
Certification
Each

316L Stainless Steel Bottle and Lid

0.17 fl. oz. / 5 ml
2"
2

1/2

"
1.984"
1"
__
10
Silicone Rubber
Yes
Not Passivated
Material Certificate with Traceable Lot Number and Test Report
0000000
0000000
0.34 fl. oz. / 10 ml
2"
2

1/2

"
1.984"
1"
__
10
Silicone Rubber
Yes
Not Passivated
Material Certificate with Traceable Lot Number and Test Report
0000000
000000
0.85 fl. oz. / 25 ml
2"
2

1/2

"
1.984"
1

1/2

"
__
10
Silicone Rubber
Yes
Not Passivated
Material Certificate with Traceable Lot Number and Test Report
0000000
000000
1.9 fl. oz. / 55 ml
2"
2

1/2

"
1.984"
1

1/2

"
__
10
Silicone Rubber
Yes
Not Passivated
Material Certificate with Traceable Lot Number and Test Report
000000
000000
3.8 fl. oz. / 110 ml
2

9/16

"
3

3/8

"
2.516"
2"
__
10
Silicone Rubber
Yes
Not Passivated
Material Certificate with Traceable Lot Number and Test Report
0000000
000000
16.9 fl. oz. / 500 ml
3

1/4

"
5

7/8

"
2.516"
2"
18
10
Silicone Rubber
Yes
Passivated
Material Certificate with Traceable Lot Number and Test Report
0000000
00000000
34 fl. oz. / 1,000 ml
4"
7"
3.579"
3"
18
10
Silicone Rubber
Yes
Passivated
Material Certificate with Traceable Lot Number and Test Report
0000000
00000000
68 fl. oz. / 2,000 ml
4

13/16

"
9"
4.682"
4"
18
10
Silicone Rubber
Yes
Passivated
Material Certificate with Traceable Lot Number and Test Report
0000000
00000000
1.3 gal. / 5,000 ml
6

7/16

"
12

1/4

"
4.682"
4"
16
10
Silicone Rubber
Yes
Passivated
Material Certificate with Traceable Lot Number and Test Report
0000000
00000000
2.5 gal. / 10,000 ml
8

3/8

"
14

1/4

"
4.682"
4"
16
10
Silicone Rubber
Yes
Passivated
Material Certificate with Traceable Lot Number and Test Report
0000000
00000000
5 gal. / 20,000 ml
10

3/4

"
17

3/8

"
4.682"
4"
18
10
Silicone Rubber
Yes
Passivated
Material Certificate with Traceable Lot Number and Test Report
0000000
00000000