Lacers for
Quick-Install

Hook-Style

Lacing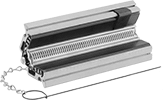 A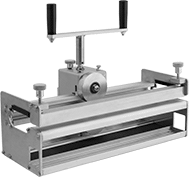 B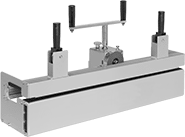 C
Lacers quickly clinch lengths of lacing in a single operation. To lace belts wider than the working width, repeat the lacing operation.
Style A lacers mount in a vise. Styles B and C lacers are wider for more efficient installation.
Holding strips (sold separately) are required for Styles B and C to load the lacing.
Note: Lacers work with lacing in all leg and point styles for a given lace number.
Style
For Lace

No.

Working


Wd.

Ht.

Wd.

Dp.

Each
Each
A
25, 25LL, 25LP
7"
2"
7

5/8

"
3

1/2

"
000000
0000000
000000
00
A
36, 36SP, 36LL, 36LLSP, UCM36, UCM36SP, UCM36LL, UCM36LLSP
7"
2"
7

5/8

"
3

1/2

"
000000
000000
000000
00
A
1, 1SP, 1LL, 1XSP, UX1, UX1SP
7"
2"
7

5/8

"
3

1/2

"
000000
000000
000000
00
A
2, 2SP, 3, 4, 4 1/2, 5, 6, 7, U3-1, U3-2, U3, U4, U5
4"
2"
5"
3

1/2

"
000000
000000
000000
00
A
2, 2SP, 3, 4, 4 1/2, 5, 6, 7, U3-1, U3-2, U3, U4, U5
7"
2"
7

5/8

"
3

1/2

"
000000
000000
000000
00
B
36, 36SP, 36LL, 36LLSP, 1, 1SP, 1LL, 1XSP, 2, 2SP, 3, 4, 4 1/2, 5, 6, 7, UCM36, UCM36SP, UCM36LL, UCM36LLSP, UX1, UX1SP, U3-1, U3-2, U3, U4, U5
14"
15"
20"
10"
00000000
00000000
0000000
0000000
C
36, 36SP, 36LL, 36LLSP, 1, 1SP, 1LL, 1XSP, 2, 2SP, 3, 4, 4 1/2, 5, 6, 7, UCM36, UCM36SP, UCM36LL, UCM36LLSP, UX1, UX1SP, U3-1, U3-2, U3, U4, U5
24"
15"
30"
10"
0000000
00000000
000000
000000
C
36, 36SP, 36LL, 36LLSP, 1, 1SP, 1LL, 1XSP, 2, 2SP, 3, 4, 4 1/2, 5, 6, 7, UCM36, UCM36SP, UCM36LL, UCM36LLSP, UX1, UX1SP, U3-1, U3-2, U3, U4, U5
36"
15"
42"
10"
0000000
00000000
000000
000000
C
36, 36SP, 36LL, 36LLSP, 1, 1SP, 1LL, 1XSP, 2, 2SP, 3, 4, 4 1/2, 5, 6, 7, UCM36, UCM36SP, UCM36LL, UCM36LLSP, UX1, UX1SP, U3-1, U3-2, U3, U4, U5
48"
15"
54"
10"
0000000
00000000
000000
000000
C
36, 36SP, 36LL, 36LLSP, 1, 1SP, 1LL, 1XSP, 2, 2SP, 3, 4, 4 1/2, 5, 6, 7, UCM36, UCM36SP, UCM36LL, UCM36LLSP, UX1, UX1SP, U3-1, U3-2, U3, U4, U5
60"
15"
66"
10"
0000000
00000000
000000
000000