Fixed-Temperature
Dispenser with One Air Outlet

Fixed-Temperature
Dispenser with Two Air Outlets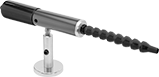 Adjustable-Temperature
Dispenser with One Air Outlet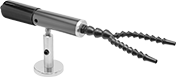 Adjustable-Temperature
Dispenser with Two Air Outlets
Replace messy mist coolant dispensers—these convert compressed air into a stream of cold air. They can be used in applications where liquid coolant can't. Made with a vortex tube, these dispensers have no moving parts and need no electricity to provide a continuous cold air supply. Dispensers have any-which-way nozzles that stay in place once positioned. All dispensers come with a filter to install in your air line.
Fixed-temperature dispensers reduce the supply air temperature by 50° F.
Adjustable-temperature dispensers can be set to reduce the supply air temperature by as much as 100° F. Turn the knob on the back to adjust the air temperature.
No.

of
Air
Outlets

Max.




Pressure,


psi

Lg.

Type
Material
Mount
Type
Bend
Radius

No.

of
Dispensing
Tips Included

Dia.

Lg.

Material
Vortex
Tube
Material
Air
Consumption
@ Pressure
Air Inlet


Pressure,


psi
Each

Fixed Temperature

1
3
11"
Flexible
Acetal Plastic
Magnetic
1

5/8

"
2
1

1/2

"
10"
Aluminum
Stainless Steel
15 scfm @ 100 psi
80-100
0000000
0000000
2
3
11"
Flexible
Acetal Plastic
Magnetic
1

1/4

"
4
1

1/2

"
10"
Aluminum
Stainless Steel
15 scfm @ 100 psi
80-100
0000000
000000

Adjustable Temperature

1
3
8

1/2

"
Flexible
Acetal Plastic
Magnetic
2

1/2

"
1
1

3/4

"
10

5/8

"
Aluminum
Aluminum
15 scfm @ 100 psi
80-100
00000000
000000
2
3
9"
Flexible
Acetal Plastic
Magnetic
2

1/2

"
2
1

3/4

"
10

5/8

"
Aluminum
Aluminum
15 scfm @ 100 psi
80-100
00000000
000000