Water-Quality

Combination Test Kits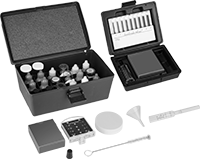 Test for contaminants before installing water-treatment equipment such as boilers and filters. You can also check your pipes and equipment for improper chemical levels that can cause corrosion and scale buildup, shortening their life.
367-test kits include tests for six common water-quality parameters in boiler systems and cooling towers.
For
Testing
Range
Test
Type
Number
of
Tests
Each
Total Hardness

Phenolphthalein Alkalinity, Total Alkalinity

5.0-15.0 ppm, 100-300 ppm

100-300 ppm, 500-1500 ppm

1.0-12.0 ppm

0-10 ppm

20-60/50-150 ppm

100-300/5,000-15,000 ppm

Analog
75
00000000
0000000