About
Copper,

Brass,

and Bronze
Super-Conductive

101 Copper Tubes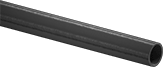 Yield

Strength:

30,

000 psi

Hardness:

Rockwell F90

(Soft)

Temper:

H80

(Full

Hard)

Heat

Treatable:

No
Specifications

Met:

ASTM

B75,

ASTM F68
With 99.99% copper content, 101 copper has higher purity than 110 copper, resulting in superior electrical conductivity. It's commonly called OFE and OFHC copper. Use it in electrical applications, such as for coaxial cables and terminal lugs.
For technical drawings and 3-D models, click on a part number.

Certificates with a traceable lot number are available for these products. Download certificates from ORDER HISTORY after your order ships.
OD
OD Tolerance
Range
ID
Straightness
Tolerance

1 ft.




Lg.

3 ft.




Lg.

6 ft.




Lg.

0.032"

Wall

Thick.

(-0.006" to 0.006" Tolerance)

1/8

"
-0.003" to 0.003"
0.061"
0.5"
0000000

3/16

"
-0.003" to 0.003"
0.124"
0.5"
0000000

3/8

"
-0.003" to 0.003"
0.311"
0.5"
0000000

1/2

"
-0.003" to 0.003"
0.436"
0.5"
0000000

3/4

"
-0.003" to 0.003"
0.686"
0.5"
0000000

0.035"

Wall

Thick.

(-0.006" to 0.006" Tolerance)

1/4

"
-0.003" to 0.003"
0.18"
0.5"
0000000

0.065"

Wall

Thick.

(-0.006" to 0.006" Tolerance)

3/8

"
-0.003" to 0.003"
0.245"
0.5"
0000000

1/2

"
-0.003" to 0.003"
0.37"
0.5"
0000000

3/4

"
-0.003" to 0.003"
0.62"
0.5"
0000000

1/8"

Wall

Thick.

(-0.006" to 0.006" Tolerance)

1"
-0.003" to 0.003"

3/4

"
0.5"
0000000