Close
About Character Height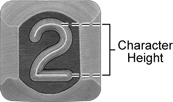 When you look at the face of a stamp, you'll notice the character is raised. The distance between the upper and lower raised ridges is known as the character height. This height is used to measure stamp size. If a stamp does not have a size marking on the shank, measure the character height to order the correct size.
The actual impression a stamp makes is larger than its character height and varies depending upon how hard you strike the stamp, the hardness of the material, and wear.
Rubber Stamps with Message
The built-in pad automatically inks the stamp after each impression for fast, repetitive stamping. Use on porous surfaces such as boxes, fabric, and paper.
For technical drawings and 3-D models, click on a part number.

Mark keys with common messages.
Message

Ht.

Wd.

Lg.

Wd.

Thick.

For

Max.

Surface
Hardness
Stamp
Material
Letter Casing
Each
Do Not Copy

3/16

"

1/2

"
2

7/8

"

1/2

"

1/2

"
Rockwell C30
Steel
Uppercase
0000000
000000