Wet-Location

Multi-Diameter

Multi-Cord

Grips
Modify these cord grips to get the right fit for your cord even when you don't know the exact diameter. They include a frame with two-piece rubber inserts that fit around cables with connectors. The inserts are made of layers that you peel away until you reach the size that fits your cord.
Grips are rated IP66 and IP67 for protection from washdowns and temporary water submersion and NEMA 4X and 13 for indoor and outdoor protection against corrosion, water projected from a hose, and oil/coolant spraying.
Nylon is chemical resistant.
Stainless steel grips are also rated IP69K for protection against high-pressure, high-temperature jets of water and have excellent corrosion resistance.
Replacement inserts allow you to change cord sizes and configurations.
For technical drawings and 3-D models, click on a part number.
Food Industry Wraparound
Multi-Cord

Grips

Housing with Inserts
(Sold Separately)
FDA compliant for direct food contact, these cord grips have a multi-piece design to wrap around cables in sanitary environments without removing connectors or rewiring. They're rated IP66 as protective against dust and washdowns.
Choose a housing and then select inserts (sold separately). Made of stainless steel, housings resist chemicals and corrosion. Inserts are made of TPE rubber, which combines the flexibility and resilience of rubber and plastic, so they'll maintain their shape when wrapped around your cords.
Inserts for 1 cord have a slit that eliminates the need to thread cable through them.
Use inserts for 0 cords to block off unused openings in the housing.
For technical drawings and 3-D models, click on a part number.

Housing for 6 Inserts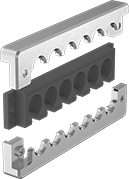 Housing Shown Open

Housing for 8 Inserts

Housing for 12 Inserts
For


No.

of
Inserts

Dia.

Size

Lg.

Wd.

Dp.

Lg.

Wd.

Mounting
Fasteners
Included

No.


of

Dia.

Temperature


Range,




°F

Environmental
Rating
Specifications
Met
Each

Stainless Steel and Blue TPE Rubber

6
0.67"
Small
5.83"
1.5"
0.56"
4.4"
0.7"
No
4
0.22"
-40° to 175°
NEMA 4X, IP66
FDA Compliant 21 CFR 177.2600

00000000
0000000
8
0.67"
Small
4.77"
2.29"
0.56"
3.4"
1.4"
No
4
0.22"
-40° to 175°
NEMA 4X, IP66
FDA Compliant 21 CFR 177.2600

00000000
000000
12
0.67"
Small
5.83"
2.29"
0.56"
4.4"
1.4"
No
4
0.22"
-40° to 175°
NEMA 4X, IP66
FDA Compliant 21 CFR 177.2600

00000000
000000

Insert for 0 Cords

Insert for 1 Cord
For Total


No.

of
Cords
For
Cord
OD

Dia.

Dp.

Temperature


Range,




°F

Environmental
Rating
Specifications
Met
Each

Blue TPE Rubber

Small

0
__
0.67"
1.11"
-40° to 175°
NEMA 4X, IP66
FDA Compliant 21 CFR 177.2600

00000000
00000
1
0.08"-0.11"
0.67"
1.11"
-40° to 175°
NEMA 4X, IP66
FDA Compliant 21 CFR 177.2600

00000000
0000
1
0.12"-0.15"
0.67"
1.11"
-40° to 175°
NEMA 4X, IP66
FDA Compliant 21 CFR 177.2600

00000000
0000
1
0.16"-0.19"
0.67"
1.11"
-40° to 175°
NEMA 4X, IP66
FDA Compliant 21 CFR 177.2600

00000000
0000
1
0.2"-0.23"
0.67"
1.11"
-40° to 175°
NEMA 4X, IP66
FDA Compliant 21 CFR 177.2600

00000000
0000
1
0.24"-0.27"
0.67"
1.11"
-40° to 175°
NEMA 4X, IP66
FDA Compliant 21 CFR 177.2600

00000000
0000
1
0.28"-0.31"
0.67"
1.11"
-40° to 175°
NEMA 4X, IP66
FDA Compliant 21 CFR 177.2600

00000000
0000
1
0.32"-0.35"
0.67"
1.11"
-40° to 175°
NEMA 4X, IP66
FDA Compliant 21 CFR 177.2600

00000000
0000
1
0.36"-0.39"
0.67"
1.11"
-40° to 175°
NEMA 4X, IP66
FDA Compliant 21 CFR 177.2600

00000000
0000
1
0.4"-0.43"
0.67"
1.11"
-40° to 175°
NEMA 4X, IP66
FDA Compliant 21 CFR 177.2600

00000000
0000
1
0.44"-0.47"
0.67"
1.11"
-40° to 175°
NEMA 4X, IP66
FDA Compliant 21 CFR 177.2600

00000000
0000