Set Screw

Flexible Shaft Couplings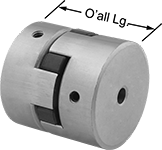 Hubs and Spider Shown Assembled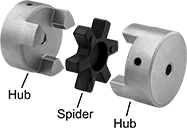 (Each
Component Sold
Separately)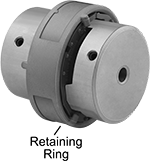 Hubs,
Split
Spider,
and Retaining Ring Shown Assembled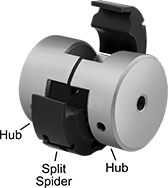 (Each
Component Sold
Separately)
Each hub includes a set screw (unless noted), which bites into your shaft to hold the coupling in place. Also known as Lovejoy® couplings, these three-piece couplings have a spider-shaped cushion between two hubs to reduce shock and handle minor shaft misalignment.
A complete coupling consists of two hubs and one spider, or two hubs, one split spider, and one retaining ring (all components sold separately). Split spiders are easier to install and replace than standard spiders because there's no need for tools or removing your hubs. Twist-lock them in place using a retaining ring.
Buna-N spiders provide good vibration damping and chemical resistance. Hytrel spiders provide fair vibration damping and excellent chemical resistance. Polyurethane spiders and split spiders provide fair vibration damping and good chemical resistance.
For technical drawings and 3-D models, click on a part number.