Measured in decibels (dB), volume ratings indicate how much noise equipment makes. Some common volume levels include a whisper @ 20 dB, a refrigerator @ 40 dB, a conversation @ 60 dB, and a light machine shop @ 90 dB. OSHA recommends hearing protection for exposure to 80 dB and greater.
Wide-Flow

Equipment-Cooling

Blowers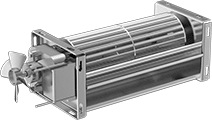 Also known as crossflow blowers, these create a wider stream of concentrated air than other equipment-cooling blowers to blow away the heat generated by electronic equipment, induction heaters, and high-wattage bulbs. Use them to keep heat-sensitive equipment such as electronic components cool. All have UL recognized components and are CSA certified.
For technical drawings and 3-D models, click on a part number.
Ht.

Wd.

Dp.

Ht.

Wd.

Airflow,


cfm

Temp.




Range,




°F

Volume,


dBA
Motor


Speed,


rpm

Current,


A
Each

Rectangular

120V

AC,

Single

Phase,

60Hz—

Wire Leads

4.25" (108 mm)
11" (279.4 mm)
3.5" (88.9 mm)
0.88" (22.23 mm)
7.5" (190.5 mm)
120
30° to 140°
__
2,600
0.9
0000000
0000000
4.25" (108 mm)
14" (355.6 mm)
3.5" (88.9 mm)
0.88" (22.23 mm)
10.5" (266.7 mm)
160
30° to 140°
__
2,600
1.2
0000000
000000
4.25" (108 mm)
17.63" (447.68 mm)
3.5" (88.9 mm)
0.88" (22.23 mm)
13.5" (342.9 mm)
220
30° to 140°
__
2,600
1.3
0000000
000000
2" (50.8 mm)
10.13" (257.18 mm)
1.88" (47.63 mm)
0.63" (15.88 mm)
7.75" (196.85 mm)
58
-4° to 140°
51
4,250
0.7
0000000
000000
2" (50.8 mm)
16.25" (412.75 mm)
1.88" (47.63 mm)
0.63" (15.88 mm)
13.88" (352.43 mm)
91
-4° to 140°
51
3,600
0.8
0000000
000000
2" (50.8 mm)
10.13" (257.18 mm)
1.88" (47.63 mm)
0.63" (15.88 mm)
7.75" (196.85 mm)
58
-4° to 140°
51
4,250
0.3
0000000
000000
2" (50.8 mm)
16.25" (412.75 mm)
1.88" (47.63 mm)
0.63" (15.88 mm)
13.88" (352.43 mm)
91
-4° to 140°
51
3,600
0.4
0000000
000000