Application

Application
Show
DFARS (Defense Acquisition Regulations Supplement)

DFARS

(Defense

Acquisition

Regulations

Supplement)
RoHS (Restriction of Hazardous Substances)

RoHS

(Restriction

of
Hazardous

Substances)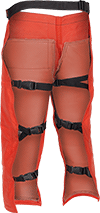 Back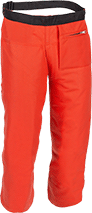 Front
These chaps are designed to meet ASTM F1897 leg protection standards for chain saw users. They have a pocket that zips shut to keep contents from shaking out. Modify the fit using the three adjustable straps with buckles on each leg.
Nylon is lightweight and flexible, providing better mobility than Cordura nylon.
Cordura nylon is twice as thick as nylon for added abrasion resistance without weighing you down.
When measuring outer seam length, measure from the waist to the foot. Find your waist by measuring just above the top of your hip bone. Take all measurements over any clothing you expect to wear under the chaps.
Inseam
Outer
Seam
Color
Closure
Type
Features
Size
Each

Nylon Fabric

28"
33"
Orange
Buckle
Adjustable Leg Straps, Zippered Front Pocket
One Size
0000000
000000
29"
36"
Orange
Buckle
Adjustable Leg Straps, Zippered Front Pocket
One Size
0000000
00000

Cordura Nylon Fabric

28"
33"
Orange
Buckle
Adjustable Leg Straps, Zippered Front Pocket
One Size
0000000
000000
30"
36"
Orange
Buckle
Adjustable Leg Straps, Zippered Front Pocket
One Size
0000000
000000