Turning Carbide Insert Holders

Secure carbide inserts inside these holders for stable turning. They're also known as indexable insert holders. Select a holder that's compatible with your insert by matching the insert style and inscribed circle diameter (IC). Right-hand holders move from right to left toward the lathe chuck, left-hand holders move from left to right away from the lathe chuck, and neutral holders can cut in either direction.
S-code holders secure inserts with a screw for easy indexing. They're the most commonly used holders with positive-rake inserts.
Holders with an offset shank are good for reaching into tight corners and when working close to the chuck.
For technical drawings and 3-D models, click on a part number.
SDJC Holders with Offset Shank—For DCGA, DCGT, DCGW, DCGX, DCMA, DCMT, DCMW Inserts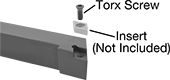 Right Hand

Left Hand