Personal Protection Panels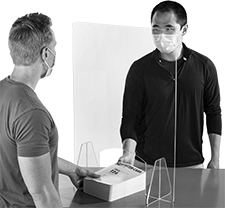 Create a barrier between customers and employees to stop the spread of illness. Made from clear acrylic, these panels block germs without keeping the people on each side from seeing and interacting with one another. They're also durable, so they won't break down from daily use.
Hanging panels have mounting holes at the top corners and come with a 6 ft. wire to suspend them at the height you choose. Unlike freestanding panels, they can't be knocked over.
Freestanding panels sit upright on flat surfaces, so they're easier to set up and move than hanging panels.
Panels with a cutout have space to pass money, documents, and other items through the barrier. Panels with a mounting base or foot brackets are supported from underneath.
Those with side panels protect you from the front and sides. Hinged side panels fold flat for storage when they're not in use. 12"-wide hinged side panels give you extra protection on both sides. Screw-on side panels include mounting hardware for attaching the side panels to the front panel. Use them for a permanent setup.
Those with four panels protect up to four people at a single table or desk unit. They consist of two panels that slide together—no fasteners required—to create a four-way intersection, taking up less space than four individual panels would. 31" × 48" panels are designed for rectangular tables; all other four-way panels are designed for square and circular tables.
Flexible Personal Protection Panels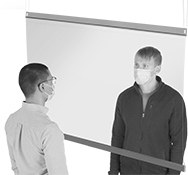 Hanging Panel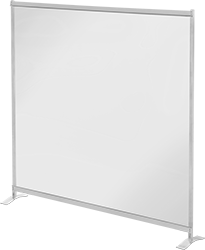 Freestanding Panel
Place these panels between people to prevent the spread of illness without blocking communication—they're flexible, so they won't crack like rigid panels and they roll up for moving and storing them. Made of PVC, they're durable and easy to clean, as well as lightweight, which is helpful when carrying and assembling them.
Hanging panels, unlike freestanding panels, can't be knocked over and don't take up floor space. Suspend them from the ceiling using the included mounting hooks.
Freestanding panels are easy to move wherever you need them.
Height
Width

Thickness,


mil
Material
Features
Each

Hanging

36"
54"
500
PVC Plastic

Mounting Hooks
0000000
0000000
54"
48"
500
PVC Plastic

Mounting Hooks
0000000
000000
54"
72"
500
PVC Plastic

Mounting Hooks
0000000
000000
72"
54"
500
PVC Plastic

Mounting Hooks
0000000
000000
84"
54"
500
PVC Plastic

Mounting Hooks
0000000
000000
84"
72"
500
PVC Plastic

Mounting Hooks
0000000
000000

Freestanding

72"
72"
500
PVC Plastic

Mounting Base
0000000
000000
High-Visibility

Personal Protection Panels
Visible at a distance because of their bright yellow frames, these clear panels safely section off workspaces and create distance between workers. The plastic panels won't block sightlines and are easier to clean than fabric. Mount them to floors, walls, and ceilings with the included brackets, or use the brackets as feet to create freestanding partitions. The mounting holes allow you to bolt multiple panels together.
Add casters to easily move panels around your space.
For technical drawings and 3-D models, click on a part number.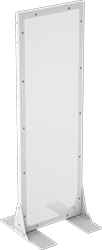 Style
Width
Height
Panel
Thickness
Number
of Panels
Material
Color
Each
A
48"
48"

3/16

"
1
Steel
Yellow
0000000
0000000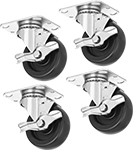 Optional Casters
Diameter
Width
Mount
Height
Capacity per


Caster,

lbs.

Caster
Type

Wheel/Tread


Material
Mounting
Fasteners
Included
Each
4"
1

1/4

"
5

1/2

"
300
4 Swivel with Brake
Polyurethane Rubber
Yes
0000000
0000000