Mounting Adapters for DIN Rails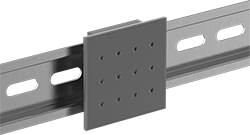 Panel-Clip
Adapter for DIN 3 Rail
Mount items not designed for DIN rail by attaching them to these adapters. Adapters clip onto the rail.
For large items that need more stability, use multiple adapters or choose an adapter with more than one mounting hole. Adapters with 12 and with 30 mounting holes have a panel for positioning multiple items together in whatever arrangement you need.
For technical drawings and 3-D models, click on a part number.
For DIN Rail
Trade Size

Ht.,


mm

Wd.,


mm

Dp.,


mm
Material
Mounting
Fasteners Included

Dia.

No.


of
Each

Panel Clip

DIN 3
76
76
12
Polyamide Plastic
No
1.9mm
30
0000000
00000